Exciting collaboration with Imperial's Data Science Institute to deliver new intensive course
The Data Science Institute in partnership with coding bootcamp Le Wagon has launched a 10-week course for learners to pick up skills in data science.
Last week saw the launch of the first Imperial Data Science Intensive Course – co-created by the Data Science Institute and coding bootcamp Le Wagon, with the support of the Centre for Continuing Professional Development and Imperial Projects.
This new course is aimed at either recent graduates or professionals with an interest in data science who are looking to expand their career opportunities learning the skills to explore, clean and interpret data, and to support decision making in their current job or in the one they are moving towards.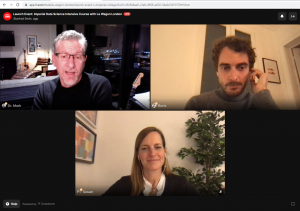 During the online launch event, we spoke with Boris Paillard, CEO and co-founder of Le Wagon, programme leads Dr Mark Kennedy  Associate Professor of Strategy and Organisation in the Business School and co-director of the Data Science Institute and Dr Susan Mulcahy, programme director of Data Spark as well as data scientists who now work for companies including Facebook and Monzo to hear what this course has on offer and how rewarding a career in data science can be.
"We are very excited about this new programme" said Dr Mark Kennedy. "This is a really demanding course. We expect the participants to already have a certain knowledge of mathematics and programming before they join – he added – but once they are in, we are confident that it will give them the right skills to access an expanding job market."
Read the full article written by Anna Cupani of the DSI highlighting this exciting collaboration.
Find out more
The first round of the course will start on the 12 April 2021 for 10 weeks.  For more information about the enrolment process, requirements, programme and teachers please visit https://data-science-intensive.imperial.ac.uk/   Imperial alumni will benefit from a 10% discount on the course fee.