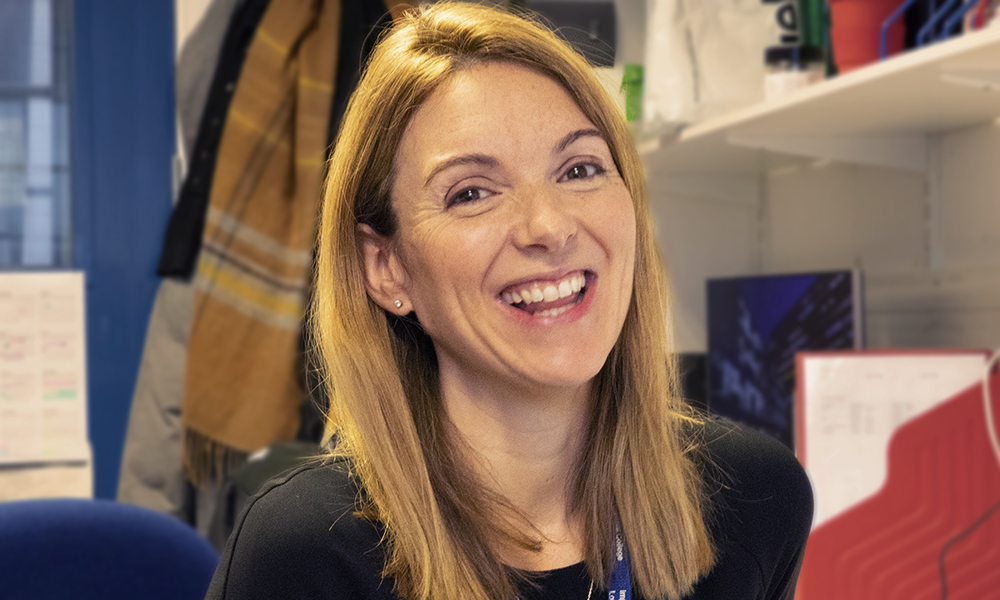 In the latest instalment of our Staff Profile series, we spoke to Dr Katrina Pollock about the challenges of being a clinical academic and the impact of her latest research.
---
Introduce yourself – who are you and what do you do?
My name is Dr Katrina Pollock and I am a Senior Clinical Research Fellow in Vaccinology and Honorary Consultant in Genitourinary and HIV Medicine at Imperial College London and Imperial College Healthcare NHS Trust.
When did you join the College, and where were you working before this?
Having worked as a junior doctor in general medicine and infectious diseases at University College Hospital, I joined the College and St Mary's Hospital as a National Institute for Health Research (NIHR) Academic Clinical Fellow. This was followed by a PhD in the National Heart and Lung Institute with Professor Ajit Lalvani and Professor Graham Taylor, and then an NIHR Lectureship in the Section of Virology.
What's the most interesting part of your role?
I have recently taken up a position as Clinical Principal Investigator working across the diverse portfolio of vaccine studies at the NIHR/Wellcome Trust Clinical Research Facility at the Hammersmith Campus, working closely with Professor Robin Shattock. I also hold a St Mary's Development Trust award for human immunology research. My job is very dynamic and involves interacting with many different national and international stakeholders. My passion has always been for human immunology research and how this can be applied for patient benefit, which has been exemplified by my ongoing work for people living with HIV. It's rewarding that through working on novel vaccine candidates, including those against HIV, I can contribute in this area.
What are the main challenges of being a clinical academic?
Being a clinical academic requires passion, drive and grit. You have to be exemplary in both the clinical and academic sphere and simultaneously navigate the needs of both roles. Mastery of this requires lots of experience, which can sometimes be challenging but the rewards of this career are truly satisfying.
Your latest research into the efficacy of the flu shot for people living with HIV was recently covered in the media. What do you hope the impact of this work will be, and what will you be working on next?
This work is part of a story that has grown alongside my career; from working as a junior doctor and caring for patients who were still struggling with and dying from HIV, to the hugely improved life expectancy that most people with HIV can expect now. Our recent study showed that functional immune recovery is possible with antiretroviral medication for people living with HIV. I hope this will promote and support the work that is already being done to reduce the stigma around HIV and encourage people to take a test. My work will now focus on how specialised immune cells called T cells are important in developing long-lived immune memory after vaccination to solve some of the challenges in developing vaccines against highly evasive pathogens such as HIV.
What's one thing you think the Department and/or College could do to improve its workplace culture?
Although much is being done to achieve equality and diversity across all levels of medicine and academia, there is still more to be done. I would like my new role in the Equality, Diversity and Inclusion committee to assist with this. A balanced workplace is a productive one and this is what we should be aiming for.
Where do you see yourself in five years' time?
In five years' time, I will have grown my research group with an investigative focus closely allied with the clinical vaccine research I am doing. Our recent work has opened up some exciting possibilities in the field of human immunology and I want to leverage this to build new vaccines.
What are your biggest hobbies/passions when you're not busy at work?
A few years ago my husband gave me an acoustic guitar, a gift he now regrets because I take my guitar on every holiday. I love spending time in the outdoors and watersports are a favourite for our family.
If you were exiled to a desert island but allowed one luxury item, what would it be?
It's a toss-up between the guitar and the surfboard. Probably the guitar, I expect I could make a surfboard from driftwood given enough time.
And finally: what's one thing you'd like staff in the Department to know about you or your role that we haven't already covered
It's a badly kept secret that I am a fan of popular physics and Brian Cox and Jim Al-Khalili are two of my heroes. I would love to be invited as a panellist on the Infinite Monkey Cage, so if the producers are reading this please do get in touch!