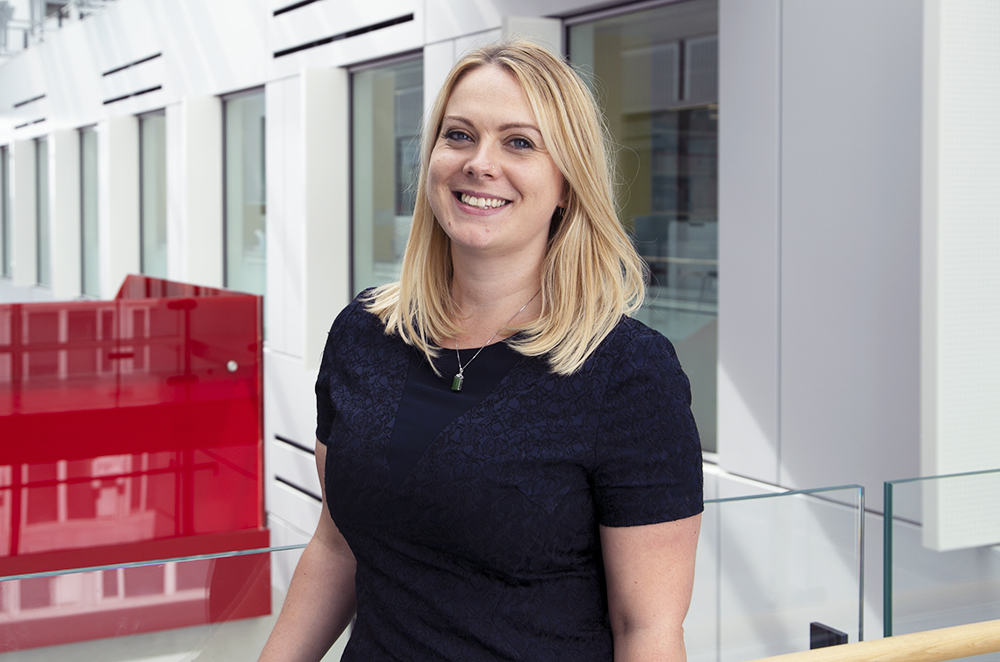 In the first edition of our Immunology & Inflammation Staff Profile series, we spoke to Cathy Tupman about stepping into her new role as Department Manager.
---
Introduce yourself – who are you and what do you do? 
I'm Cathy Tupman, Department Manager for our newly-formed Department of Immunology and Inflammation.
"But, Cathy, what does that mean?" I hear you ask. Well, broadly speaking, I lead the Department's various administrative and operational functions with ultimate responsibility for ensuring that we run efficiently and effectively. What that means is that day-to-day, I focus on strategic decision-making, problem-solving and policy development related to funding (research, teaching, core and beyond), staff management and the provision of facilities and services. I work closely with our Head of Department, Professor Marina Botto, and colleagues across the Faculty and College. In turn, I'm supported locally by a brilliant team within the Department.
When did you first join the College, and what were you doing before this? 
I joined Imperial in October 2013 as a Section Administrator in the Division of Diabetes, Endocrinology and Metabolism. After three years there, I moved to a Divisional Manager role in the Division of Infectious Diseases. Most recently, I was Medicine's first Global Health Manager, supporting our people and projects based in low-resource settings.
Before Imperial, I worked in a variety of staff- and student-facing roles at the University of Exeter; I've been in the HE sector for 11+ years.
 What are you most excited to start working on in your new role as Department Manager? 
I've been in Medicine for a few years but haven't had much opportunity to work with Immunology and Inflammation or Haematology in my previous roles. So, I really want to get to know the new I&I family: who are we, what makes us tick? What do we do well, what can we improve, and how can I and my team support us all in this brave New World?
Speaking of getting to know each other, we're planning a Welcome Party for everyone in the new Department – please do come if you can. If you can't, and you see me on my travels around the Commonwealth Building, come and say hello!
 What do you think will be the biggest challenges faced by the Department during its first academic year? 
Defining and adapting to the Faculty structure will be a challenge to all the new departments – there currently seem to be a lot of unspecified or undecided factors at play. I suppose the biggest challenge may be to continue to deliver the excellence in research and in teaching that we currently offer while responding to the new expectations that will be set for us. We're one of the smallest departments in the Faculty, which in many ways is brilliant: we can be incredibly agile and responsive if we put our minds to it and have the potential to be real trailblazers in the Faculty and wider College when it comes to implementing new processes and initiatives. However, our size also means that we might feel the pressures of Faculty and College more keenly than our larger counterparts: our margins of flexibility are narrower than theirs.
In the longer term, what role do you think the Department will play in supporting the Faculty's vision for medicine at Imperial?  
As things stand, we're in an excellent position to support the Faculty's current vision. I honestly believe our Education team and colleagues undertaking teaching responsibilities to be amongst the strongest in the College and our courses – whether undergraduate, postgraduate or short – prove popular year on year.  Moving forward, the potential to offer more online and distance learning content, and to reach far wider audiences, is incredibly exciting.
In terms of research, we have so much to celebrate. Our wealth of experience in clinical and basic science, supported by close links to the NIHR Imperial BRC, continues to achieve recognition from major funders including CRUK and the Wellcome Trust. I'm excited to see the Hugh and Josseline Langmuir Centre for Myeloma Research, part of our Centre for Haematology, grow in the very near future. I'm confident its work will exemplify our ability to deliver truly translational research, making a huge difference to the lives of those affected by the devastating disease that is myeloma.
Finally, of course, we're ideally located to make the most of our relationship with the Trust, to benefit from the White City investment, and to access the College and Faculty administrative hub in South Kensington. Colleagues from across the Faculty are seeking to move to our own Hammersmith Campus, which can only bring further investment into the services and facilities on offer here – at last, Hammersmith's day has come!
What's one thing you'd like to change about the working culture within Medicine or the College more broadly? How do you think this change can be achieved? 
I think there's still a lot of work to do on equality, in terms of opportunity, representation and treatment, and on demonstrating fundamental respect for each other – for me, the two are intrinsically linked. The Athena SWAN agenda goes some way towards encouraging us to address the issues behind gender inequality, but we need to widen our focus and find ways to improve working life for all staff and student groups, regardless of background.
It is my hope the Faculty and College will increase representation on committees and boards, so they are more truly reflective of our diverse community, and that they will then actively listen to what is said at meetings, and act on arising issues and opportunities accordingly.
If you could sum up your approach to management in one word, what would it be? 
Empowering.
 When you're not working, what are your main passions and hobbies?  
I love to travel, to read, and to learn new languages – half of my degree was in Spanish, and I've studied French and Mandarin. 你们好! I also try to pick up as much Russian, Latin and Greek from my Dad as I can – I'm better at reading them than speaking but hey, it all helps.
I'm a big fan of wine and cheese and hanging out with my cat, Marley (also a big cheese fan). On a different note, I quite enjoy boxing…
If you were exiled to a desert island but allowed one luxury item, what would it be? 
Hmm, does my cat count? If not, a fully-loaded Kindle with a never-ending battery, please!
And finally: what's one thing you'd like staff in the Department to know about you or your role that we haven't already covered? 
In the spirit of wanting to get to know you all, I really ought to let you know where I'm based! I sit in 2N7 on the second floor of the Commonwealth Building. You may recognise my office-mate, Joanna Thompson. If I'm not in my office, or one of many meetings around College, I'm probably feeding my caffeine habit in the Wolfson Restaurant…