by Daniel Hdidouan, PhD student in the Centre for Environmental Policy
The second annual Environmental and Sustainability Mixer took place on Wednesday 27th of September. The mixer is a cross-departmental initiative, the aim of which is to encourage the postgraduate research student community working in environmental and sustainability research to get to know each other. It was a fantastic event which saw high turnout for the social; students enjoyed pizzas and drinks in the Physics common room on Level 8 of the Blackett Building.
Purpose
The event was devised because students in the past have found it difficult to find informal events for research students to build cross-departmental and cross-College relationships. As such, the event was funded by the Graduate School's Research Community Fund.
From previous experience shared by the alumni, a College-wide neutral platform (i.e. funded by the Graduate School) with students from other departments was needed to facilitate interaction and foster collaboration at an earlier stage in our careers. A lot of work is done in the environment and sustainability at Imperial but often people don't realise the wealth of the network until it's too late.
Numbers
With over 45 registered attendees, and a turnout of 71% (32) we were able to welcome in the new academic year with some familiar and fresh faces to Imperial's environmental and sustainability research area. The mixer was designed to encourage Imperial's environmental and sustainability research community to get to know each other and increase awareness of the breadth of research undertaken in this field across all of Imperial's departments. A total of 9 departments were represented across Imperial's four faculties, including: the Centre for Environmental Policy, Physics, Mathematics, Business School, Earth Science and Engineering, Public School of Health, and Civil and Environmental Engineering.
Pie chart showing break down of registered attendees' departments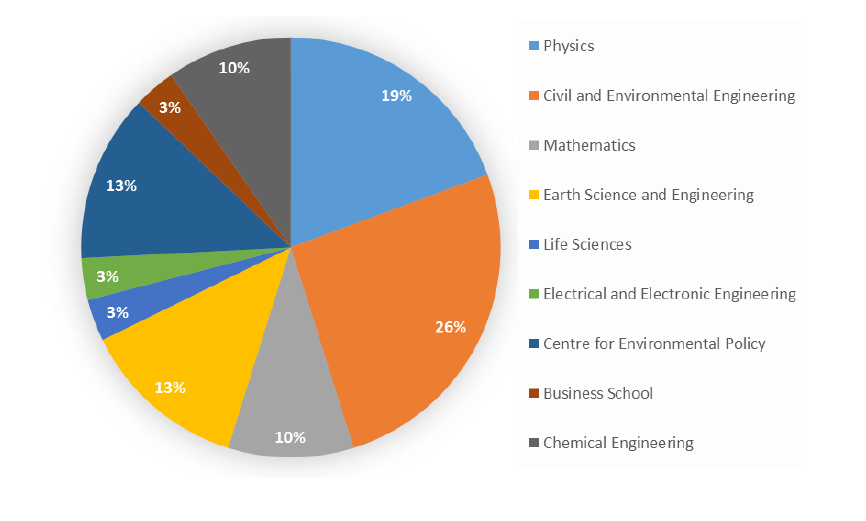 Outcomes
This cohort building exercise introduced attendees to other departments, topics of research and new friends. We are in contact and are aiming to meet up again in the next few weeks. There is also an initiative to formalise an environmental and sustainability network here at imperial that was further floated at the mixer. We also have some leftovers which we plan to put towards another mixer in the coming weeks! If you would like further information regarding the mixer, or potentially organising your own cohort building activity and would like to learn from our experience, please get in touch: d.hdidouan15@imperial.ac.uk (Daniel Hdidouan).