St. Mary's Campus does not really have a common room where students from different research groups get to know each other. Trying to break down the barrier, there was a Christmas party organised for all students working in the Medical School Building. Based on the huge success and numerous thank yous for organising this party, we decided to put together another party. A summer party this time, with the presence of the British summer drink of choice: Pimm's with fresh fruit.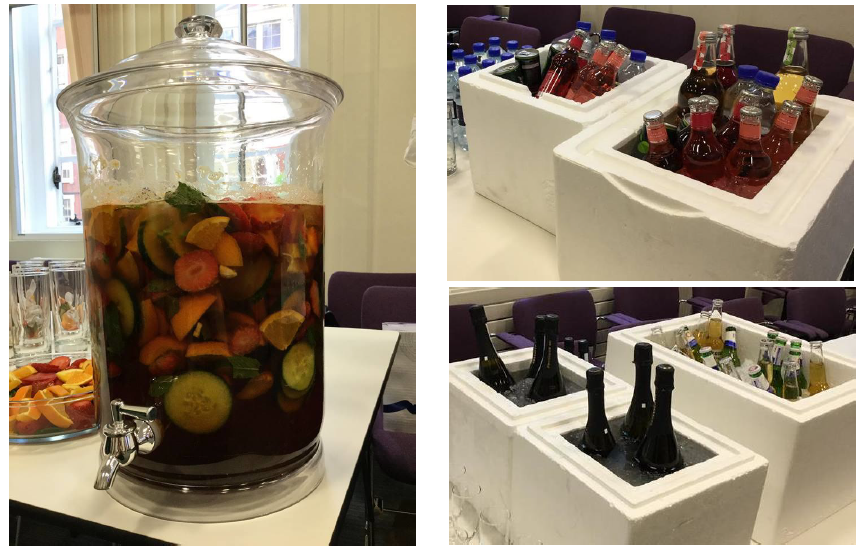 Besides Pimm's, we provided prosecco, two kinds of beer, non-alcoholic bubbles and lots of water thanks to the Graduate School Cohort Building Fund, who sponsored this event. Because of the high temperatures, everything was kept cool with ice and people could enjoyed a cold beer, refreshing prosecco or the very popular Pimm's. At 5 pm on Tuesday 22nd of May 2018, everything was ready to receive guests in the Committee room on the ground floor of the Medical Building at St. Mary's Campus. Drinks were cold, some nibbles were on the tables and Bill Nye the Science Guy started explaining science on screen.
Within 5 minutes the first people showed up to start celebrating summer and looking for those people they talked to last time. Several people thanked us for organising even before they got their drinks. By starting at 5 pm, we managed to catch the people with families before they went home and we also got people that work late by having the party still going at 7 pm. People from the School of Public Health, Virology, Respiratory Medicine, Infectious Diseases and Paediatrics all showed up. Master students joined the party as well and could casually ask those questions about PhDs they did not want to ask in the lab.
At 8.30 pm it was time to start cleaning up and everyone that was still hanging around helped out by throwing out trash, collecting glasses and bottles, and cleaning the tables. Within 15 minutes, all signs of a party were gone. I'm already looking forward to the next one!