By Corina Angheloiu, PhD Student, Centre for Environmental Policy
As the pandemic has unfolded, as PhD students we've had to rethink the ways in which we conduct our research, share and discuss findings, as well as build networks and seed collaborations. In this blog post, I'll share my experience of co-developing a podcast in this attempt to adapt.
Why a podcast?
I'm a third year PhD student in the Centre for Environmental Policy and my research focuses on the ways we can tackle increasing gaps between the knowledge and the implementation of urban resilience. As a field, urban resilience has never seemed more vital over the past year – we've seen the ways in which different cities have dealt with challenges posed by a shock such as the pandemic, as well as challenges arising from the overlap of shocks (such as hurricanes or wildfires) or the overlap between the impact of the pandemic and existing underlying stressors such as air pollution, demographics, or inequality.
However, as researchers, practitioners, and policy makers we've been lacking spaces to pause and reflect and to dig deeper into the tricky topics that we usually discuss on the sideline of conferences, official events, trainings or social gatherings. With most events being moved online, we've been overwhelmed by the volume of urban resilience webinars and conferences. Although these are valuable contributions, I sensed a gap in facilitated dialogues and smaller scale spaces for discussion and connection.
How did we do it?
With this in mind, myself and urban resilience practitioner Chiara Tomaselli decided to start a podcast where we can explore key urban resilience issues with different guests, as well as facilitate discussions among the wider community of resilience professionals. To do so, we decided to record our podcasts using Zoom, and invite members of our wider urban resilience community of practice to join us live for the recording sessions and stay for a conversation and reflections afterward.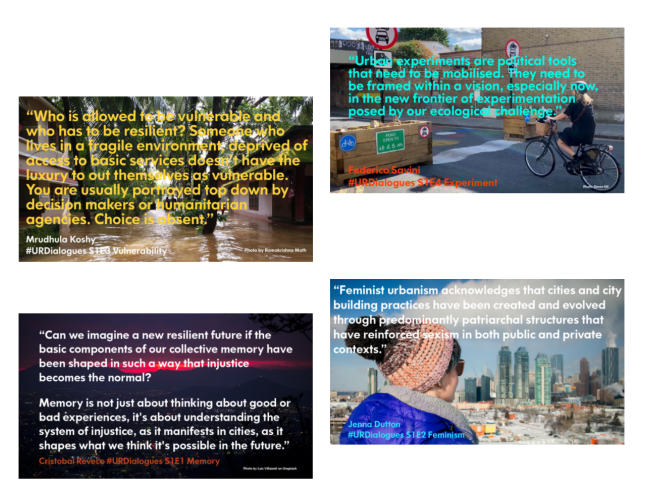 So far we've produced four episodes and have plans for two more and one recap as part of this first season. In episode 1, we travelled to Santiago de Chile to explore the role of memory in urban resilience with Cristobal Reveco, episode 2 took us to Calgary where we talked about all things feminism with Jenna Dutton, while in episode 3 we discussed the topic of vulnerability in the context of Wayanad with Mrudhula Koshy. Our fourth episode is just out – and this time we interrogate the meaning, application, scaling (and failure) of urban experiments with Federico Savini.
What we've learnt
We started thinking about this idea of a podcast with no knowledge of the production skills required so it has felt like a steep learning curve! We've found that producing one episode a month is a manageable rhythm with our other commitments, and we usually plan one episode ahead. We've also found it really valuable to have a warm up chat with our guest of the month, to bounce ideas about the topic we want to explore and get to know each other.
When we started we thought our topics were relatively niche compared to many other podcasts, especially ones that explore wider urban issues. However, we were blown away by the success so far – we've had more than 400 listeners, while the live recording sessions have built a regular attendance of about 10-15 urban resilience professionals with whom we've had great conversations at the end of the live recording. This has been a great encouragement and we're now already thinking of the structure for our next season.
In conclusion, I'd really recommend podcasting as a format for dissemination and engagement – and why not, as a research method in its own right!
You can listen to all the podcast episodes on your app of choice by following this link.
This research podcast has been made possible with financial support from the Graduate School Research Community Fund.