Groningen in the Netherlands recently hosted the 2016 Blackboard EMEA conference.  The three day conference was the biggest that Blackboard have held in Europe and featured over 420 delegates from 19 different countries.  Before discussing the conference, I must say that Groningen was a great location to hold the event.  It is a small picturesque town dominated by University of Groningen and surrounded by canals and 'car free' streets full of cyclists.  Furthermore, the town also hosted the fantastic 'David Bowie Is' exhibition and Blackboard delegates were given free access to this after hours.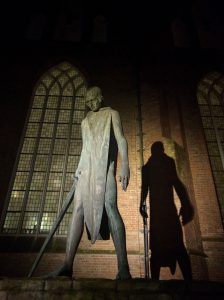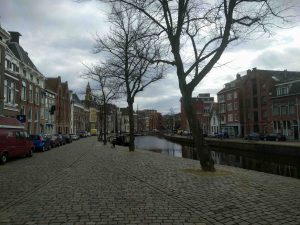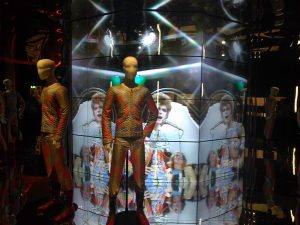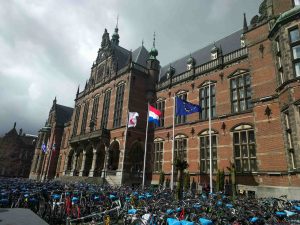 I'll now focus on some of the key events from the conference.
Blackboard Learn 9.1 Roadmap
So what do Blackboard have in store for the year ahead and beyond? Would we finally be getting a glimpse of Ultra?  Unfortunately no. There was actually very little talk of Ultra at the conference.  The roadmap, which you can view below, focused entirely on Learn 9.1 and mobile app developments.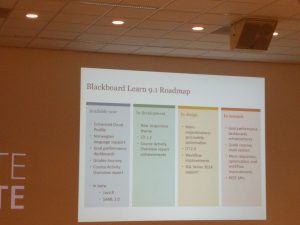 Firstly, in development and coming in summer 2016, is a brand new modern theme for Learn 9.1.  This new theme is apparently inspired by the Ultra experience.  Unfortunately we didn't get to see this though.    Also in development is a more responsive optimization for 9.1.   This is inspired by the Blackboard student app and should lead to improved navigation on different devices. From a technical viewpoint, Blackboard have made a few infrastructure improvements in the Q2 2016 release.   These changes include moving from Java 7 to Java 8 JDK and updating SQL 2012 to SQL 2014.
In the design stage, the team are working on improvements to the delegated and anonymous marking feature in 9.1.  One of the problems Blackboard have recognised is that if a tutor has to re-upload an anonymous assignment for a student (if they have permission to do so) then how do you find the original upload if the name is anonymised?  Blackboard have built in a pull-down menu of names so you can find the student and add the assignment that way.  In addition, they have also created reminders that will be emailed to anyone who has not submitted an assignment.
One feature that is available now and that Blackboard were particularly proud to display, is the enhanced cloud profile feature (see image below).  This profile supports student from undergraduate studies to employment and documents grades, work experience and achievements.  The aim of his feature is to improve employability of graduates.  Roughly 2 million students from 1000 institutions are using this feature.  Students can determine the openness of their profile and they can also link it to their CVs or LinkedIn sites.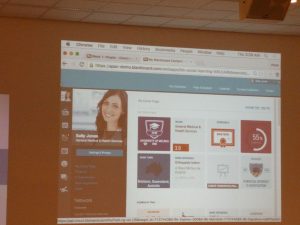 Other developments include improvements to the Blackboard Student app.  This includes making the app more responsive when 'stacking' content. In other words, if you make the page smaller or larger the content should move correctly to the centre of the screen and not stack to the side as it has done occasionally in the past.  Tests and assignments have also been restructured for mobile devices so that they render correctly.  Unfortunately, Blackboard have not made any improvements to the look and feel of discussion boards, blogs or wikis in the app.  It is now available in more than 100 countries, in 26 supported languages and available on iOS, Android and Windows phones and tablets.  In addition to the student app, Blackboard are also in the process of developing an instructor app.  The aim is to release this on iOS and Android later this year. Unfortunately for Windows device users, there is no roadmap at the moment.
So that covers the plans for the upcoming year. I will add the full roadmap presentation to this blog once it has been released by Blackboard.
Blackboard Learn Search Engine
One feature that many users feel Blackboard is lacking is an adequate search engine. In this day and age when we can easily search the internet, smartphones, computers for relevant information so why is it difficult for users to do so in Blackboard?  The University of Leuven's solution to this problem was to build their own search engine using the open sourced Elasticsearch.
Is this something that Imperial could potentially introduce/create?  Well firstly, this was a huge project involving a large number of people (system admins, Java developers and project managers) that took roughly 500 'man' days to create. This is a lot of time and resources to dedicate to a function that you can ultimately live without. Other questions relate to how good the search engine actually is.  For example, it doesn't recognise adaptive release and you cannot search for anything that is set to 'hidden'.  Furthermore, search relevance does not work and results appear in Elasticsearch order.  Finally, only content items are searchable so if you are looking for announcements, blogs, discussion posts etc it will not recognise them.  Since this presentation, it transpires that University of Brighton have created their own search engine with a limited budget. Anne Cross from Blackboard was hoping to get them to demo this at the next Blackboard User Group meeting in April 2016.
Building Institutional Readiness for Learning Analytics
Another interesting session focused on analytics and in particular, encouraging institutions to go from a general view that learner data 'might' be important, to understand how data can be used to address particular issues. For example, if a student is on course for a C grade, what is the background to why this has happened?  The presenters of this session argue that Blackboard is not, in its current form, adequate for producing analytics.  JISC are working with Blackboard to produce a new learning analytics platform (Jisc Learning Analytics Discovery Service) that they hope will ultimately 'improve the learner journey'.  One of the key features of this is to produce a variety of reports.  For example, one report can show students how they are doing in comparison with the rest of their course.  This might lead to a sense of competition between students and improve motivation.   Another report can improve technology adoption.  For example, you can look at each department at an institution and work out what features in Blackboard that they are utilising.  This could potentially influence professional development with more focus being placed on tools not being used. These are just two examples of reports you can create using learning analytics.  The main thoughts coming from this session include, what kind of stats/information do staff want?  How many different types of reports can you produce that will satisfy all departments? Finally, will Ultra (when it arrives) have improved learning analytics built in?
You can read more about the JISC learning analytics project here.
How do you Encourage Active Learning?
The closing keynote speech by Professor Neil Morris from Leeds University was an interesting look into Leeds efforts in adopting technology to enhance learning.  It was a good opportunity to compare Leeds with Imperial in this area.  Leeds developed their digital strategy partly based on the need to modernise, meeting student expectations and recognising the Teacher Excellence Framework.
One of the first changes was to introduce lecture capture using Panopto.   Leeds now have 250 Panopto enabled classrooms and have had roughly 2 million views since introducing lecture capture. 25,000 out of 30,000 students have logged in and accessed recordings and 73% of lectures have been recorded. Leeds also offers an opt out policy for any staff who do not want their recordings made available.  The increased use of Panopto at Leeds has had an impact on academics adopting a flipped classroom approach to teaching and learning. For example, staff are now editing their lecture recordings into short manageable videos.
In addition to lecture capture, Leeds are radially transforming all their lecture spaces. The aim is to remove all blackboards and whiteboards from rooms and replace them with IWBs, visualisers and projectors.  Below is an image of how they plan to make rooms more interactive.  Each desk will have a built in tablet and microphone for asking questions.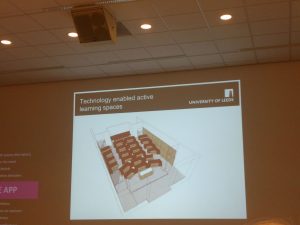 Although the plans look and sound great, I could imagine that there would be a lot of complexities and challenges, particularly maintaining and updating the AV in these rooms.
In addition to transforming the physical classroom, Leeds have been developing the virtual classroom using Blackboard Collaborate.  The feedback they have received is that students, particularly those who are not as confident speaking in a physical classroom environment, are more involved in online discussions and are more engaged.  Leeds have also been keen to harness mobile technologies and have developed an app.  The app allows attendance monitoring, polling which can be used during lectures/seminars and module evaluation.
So what does the future for Leeds hold? They are continuing to work on MOOCs and developing new credit bearing online courses.  The idea is that the user builds up credits at their own pace until they have enough for a qualification.  It will be interesting to see how this develops.
So that is a brief snapshot of the 2016 Blackboard conference.  I will add the relevant slides and videos from the conference once they have been released.