A rather sunny Newcastle was the destination for this year's Blackboard European Teaching and Learning Conference.  The 4 day event, which was split into the DevCon and main TLC conference, took place in Northumbria University Business School.  We will be looking at some of the highlights from both events.
Blackboard DevCon
Welcome & No REST for the Wicked: The Latest on REST APIs in Blackboard Learn
DevCon 2019 kicked off with a welcome from Mark O'Neil and Scott Hurrey, they discuss the outline of this year's DevCon, including events and tasks scheduled for the day and how they have had to improve the Developer Community to meet the demands of its users.
They discuss the growth of the developer community and mention how the number of members has doubled twice over in 2 years from 810 to 3507. This also reflects why there has been an increase of REST API calls, reaching up to 1.2 billion.
The REST API section in the developer portal has been improved to handle more user subscription. Improving the API documentation by filtering on each Blackboard version
Correcting typos to prevent incorrect API Calls
Best practice techniques were discussed, to enhance calls made to the API, for instance caching reusable data such as tokens and only caching data that changes infrequently.
Token Caching: Example One of the techniques to enhance calls made to the API
Cache your REST OAuth token

Introduction to Blackboard Data: The Next Generation Data Analytics Platform
Introduced by Rachael Scherer begins with the focus on "What reasons are we usually requesting data?". Most responses are centred around tracking and measuring success, which is useful to the session as Blackboard Data provides reports and direct data access (a feature available for SaaS) across the learning ecosystem, by bringing data together we can predict the needs of students.
We continue work with Blackboard Data and we are given a preview to the Blackboard Data User Interface. All the features are not yet available, but we are given an insight into the; data dictionary which details the contents, formats and structure of a database and the relationships between tables used to query the databases.
We can see here the term definitions and relationships to other tables, certain terms have been assigned privacy notes, these privacy notes give the user an indication of which information should be treated with care. In the Blackboard Data user interface, you can also access the reports. These reports are generated, once you have executed the queries using Snowflake. An analysis platform we begin to use. Blackboard provide a quick training session on their two partner products partners Snowflake and Pyramid Analytics, as we are challenged to use these tools to create a report.
Snowflake is a cloud-based data warehouse, focused on collecting data from multiple sources, used to collect all data for analysis. Access to a demonstration site using Snowflake to query Blackboard database was set up for us to execute queries and create reports.
In the afternoon we were given a demonstration of the Pyramid analytics platform, which provides reporting and direct data access from our learning ecosystem, (available as a feature on SaaS platform). The benefit is that it can live alongside and extend our analytic tools.
Developer Roadmap: Highlights the API and Future Enhancements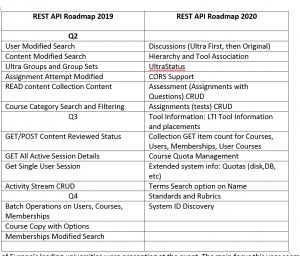 Blackboard Teaching and Learning Conference
Some of Europe's leading universities were presenting at the event. The main focus this year seemed to be divided between developments in SaaS, Ultra and Ally and how they have been adopted in different institutions.  During the welcome from the CEO Bill Ballhaus, he mentioned that 534 clients have moved to SaaS, 134 are now on Ultra and 548 institutions have adopted Ally.  It was clear throughout the event that Blackboard are looking to increase on these numbers and were keen to showcase examples throughout the TLC.  The welcome presentation also highlighted how Blackboard have simplified the business over the last year to focus more on teaching and learning to help increase innovation.  The company is trying to move away from a single product approach to design a more holositic EdTech platform  that will help deliver better learner engagement for all its customers.  For Blackboard, Ultra and Ally are key to this.
Moving to Ultra: Northumbria
Northumbria University gave an interesting presentation on their journey towards adopting Blackboard Ultra for 2019/20.  Interestingly they noted that Blackboard Learn 9.1 was not meeting the strategic aims of the University or achieving requirements for staff or students.  In short, they felt they had a great modern campus but not a VLE worthy of it.  The Northumbria journey started in 2016/17 when they moved to managed hosting.  Their overall objectives were to move to SaaS, enable Ultra base navigation in Ultra courses, implement new module and programme standards, adopt Ally and undertake staff training. They came up with the following options and have decided to go with option B highlighted in the below image.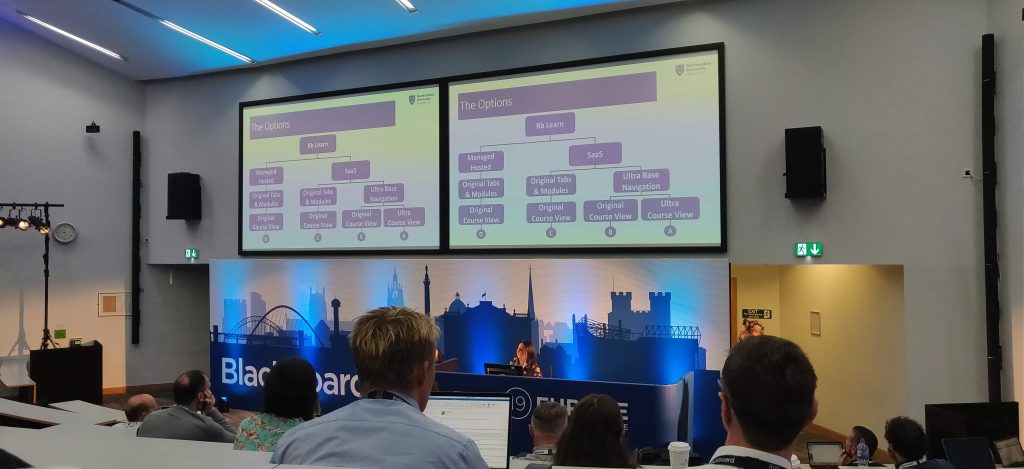 Moving to Ultra was not without challenges.  Firstly, they found the core functionality was limited when compared with the tools available in Learn 9.1.  They also had the added challenge of dealing with continuous delivery, a different way of working for the TEL team. Moving away from a yearly upgrade to updates every 4 weeks was not something they were initially prepared for and lead to a reaevaluation of testing.  Finally, the challenge of training all staff in using Ultra and helping staff rebuild content from scratch. To deal with this, the team of 4 are now rolling out 256 training sessions for 4000 members of staff. They also have drop-in sessions 5 days a week for one-to-one support.  This is all incredibly labour-intensive and in addition to this, they are continuing to train and support staff in using Learn 9.1 as this system is still active (for the time being).
Has the move to Ultra been worthwhile for Northumbria? So far, they say it is a resounding yes.  It has been an opportunity for them to redesign courses and students who have moved to it have been positive in feedback.  A trial with MSc students who used 9.1 for their first module then transitioned to Ultra gave the following positive feedback.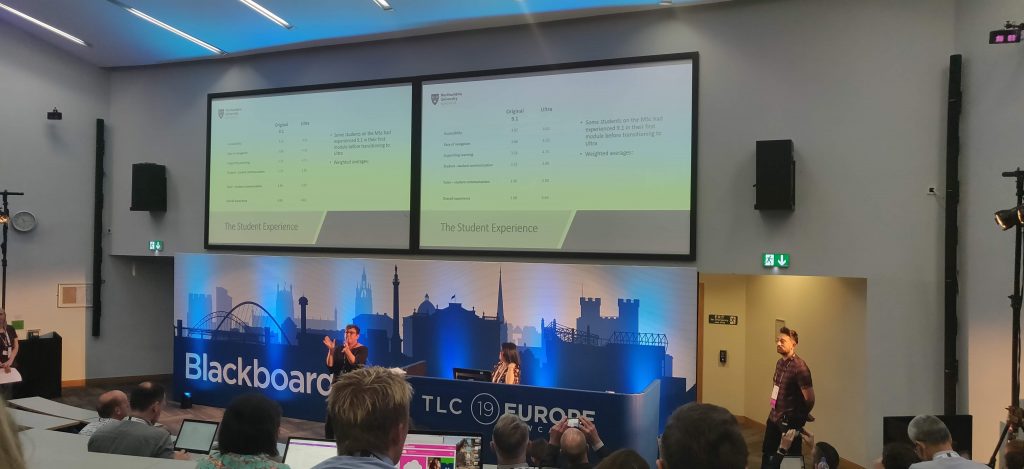 So for Northumbria, they still have a bit of work to do before the start of the 2019/20 academic year, particularly in terms of training.  The summed up that if your organisation is planning on moving to Ultra then it is important to know your objectives, have a robust raining plan, have a solid communication and engagement strategy then go for it.
Aberdeen's Journey to SaaS and Ultra
Aberdeen provided an interesting presentation focusing on the good, bad and unexpected on their journey to SaaS, Ally and Ultra. The ultimate goal is to move all courses into the Ultra view by August 2020. First steps for Aberdeen in this journey was to move to SaaS from managed hosting which they did in January 2018.  This process took 3 months and they felt it was the next logical step from managed hosting (also crucial if you want to move to Ultra).   In March 2019 they started to pilot Ultra courses.  For Aberdeen, one of the main benefits of this journey to Ultra was that it would allow them to re-engage with the different faculties and opportunity to re-develop courses.  One of the main negatives has been preparing for update on SaaS due to the constant nature of Blackboard's continuous delivery model.  Keeping on top of all developments and system updates can be a challenge.  One of the main and unexpected outcomes for Aberdeen is that users were taken by surprise with the changes and developments in the move away from 9.1 Learn.  This was despite all the effort the TEL team had put in to prepare staff and students via workshops, online guidance, drop-in sessions, focus groups, course design guidelines and templates etc.  So to sum up, Aberdeen are on their way to their 2020 target but it hasn't been without challenges, mainly getting the message out to the masses.
Comparisons of Ally
Reading, Northumbria, Derby and Edge Hill conducted a joint session comparing how they have implemented Blackboard Ally in their respective institutions.  Ally is Blackboard's content accessibility solution that uses machine learning to create alternative accessible formats (https://www.blackboard.com/accessibility/blackboard-ally.html). It was interesting to see some key differences in how it has been implemented.  Northumbria and Edge Hill went for the 'big bang' approach and as they wanted all their courses to have access to it.  Reading in comparison have introduced it via a 2 year pilot and focused on more of a 'soft' launch.  Furthermore, although it is available on all courses, as it is a pilot, they decided not to advertise it as a service.  One area all the speakers were in agreement over was on the approach to communication, support and training.  Northumbria ran a number of roadshows and drop in sessions for staff.  Edge Hill started by training Learning Technologists so they were fully aware of the capabilities and manage any potential fears they had before they went on to train academics.  User feedback on Ally has been positive for all the institutions.  Staff were initially cautious due to potential changes to their courses but running training and 1-1s with disability officers, academics and students has helped.  Reading reported that the students who know it is available are using the audio alternative format for revision purposes.  However, as they have gone or the soft launch approach, a lot of their students are still not aware it is available.  The presentation was wrapped up with the goals for the future.  Main things to consider for anyone considering adopting Ally is to have a strong communication strategy, arrange 'a lot' of training, engage with students and add Ally into any VLE baseline.
In addition to the joint session, Blackboard have shared the following video featuring a number of other institutions from around the globe talking about their experiences of Ally.
That's all from this years conference.  It will be interesting to see how Blackboard continue to evolve their EdTech platform over the next year.  The Ultra platform, although its had a number of developments and improvements over the last year, still needs a lot of work until it is a viable alternative to Learn 9.1.  Speaking of Learn, what is the road map for this product going forward?  Will Blackboard be focusing solely on Ultra by the time of the next conference?  We will find out at the 2020 TLC.