A day at Imperial can involve lectures, homework, trainings and much more.
On a recent "normal Tuesday" at Imperial, I realised the interesting activities I was doing, which I'll be sharing in this post:
Morning: Data Visualisation for Network Analytics
For our first homework in Network Analytics, we were asked to visualise correlations between stocks. As an investor, you're interested in diversifying risk by selecting different types of them. You therefore want visualise which stocks behave similarly (positive correlations) or very differently (negative correlations).
Learning a new library is always demanding, but at least the results looked fascinating (spoiler alert: I'm a data visualisation fan).
The GIF below summarises the steps to get to the final graph. If you're interested in learning how to do it, I wrote a tutorial in this link.
Afternoon: Business coaching
I'm currently taking part of an entrepreneurship program called "WE Innovate" . It is a series of workshops designed for female students at Imperial to help them develop their enterprising ideas.
As part of the program, I had a one-to-one session with Eleonor, a business coach for entrepreneurs. We discussed my business idea and went together through the business canvas model. This is a very useful process to start thinking which type of customers to target, the value proposition, pricing model and more.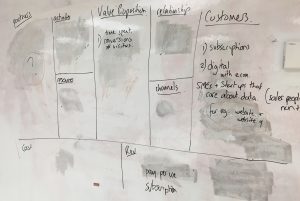 Evening: Argentine Tango
One of my favourite activities at Imperial is learning Tango. Imperial has different clubs organised by students. One of them is the dancing club. It organises every Tuesday Tango lessons, taught by the Imperial student Oz and his partner Despina.
How amazing are they? Just have a look their performance: