The guide to a perfect student Christmas dinner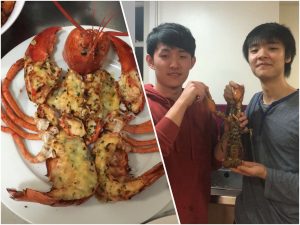 So for the perfect Christmas dinner in halls, you ideally need: a good number of hungry students, at least two types of meat, a vat of gravy and a mountain of pigs-in-blankets. To be that little bit extra, like us (and the royal family), you could also add a lobster centre piece! Between 6 kitchens and 8 people cooking, we were able to feed 12 people, for only £8 each!!
Rather surprisingly, the dish that was eaten up first was the Brussel sprouts, traditionally a vegetable that gets slightly neglected! However, here are my top tips to preparing and cooking these surprisingly edible greens, in a recipe otherwise known as "sprouts drowning in bacon".
Prep sprouts: peel outer leaves (generally darker) andthen cut into halves
At the same time, using scissors, chop up bacon into small pieces. (The more you dislike Brussel sprouts, the more bacon you should use.)
Sauté bacon in a small amount of olive oil. transfer bacon to a bowl but save the bacon grease in the pot
In a new pot, boil sprouts for 3 minutes then transfer to cold water
Sauté brussel sprouts in bacon grease until they are slightly softer and start to become golden
Add bacon back into the pot and sauté for a further few minutes
Similarly to prep our roasted carrots and parsnips, we first boiled them before cutting them into batons. After gently drying the vegetables with a paper towel, we lightly coated them in olive oil, salt and pepper before roasting them for 30 minutes. Meanwhile we created a honey, olive oil and chilli dressing which we poured over the vegetables before roasting for a further 10 minutes. This makes the roast vegetables deliciously sticky, soft and crispy at the same time.
Arguably the most important dish in any roast dinner is the potatoes, where the ambition is to make them as crispy and fluffy as possible. This is easily achieved by following these steps:
Peel and cut potatoes into quarters
Boil potatoes for 10 minutes till soft
At the same time, heat a roasting tin with a layer of olive oil
Fluff the boiled potatoes in a colander and let them air dry slightly
Roast potatoes in the hot oil in the oven till golden brown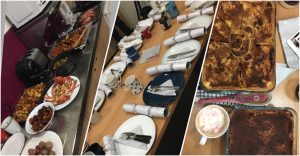 After 50 pigs in blankets, stuffing balls, a turkey crown, gammon, vegetables and the lobster, which my flat mate prepared with garlic butter and cheese, it's surprising that we had any space left for a dessert, let alone four! In addition to shop bought mince pies we had both a homemade, warming apple pie and a creamy tiramisu washed down with a rich hot chocolate made from scratch with melted chocolate.
3 hours of cooking and 4 hours of eating later, it's fair to say that our Christmas dinner was a great success. Celebrating with Christmas crackers, a few games of heads up and secret Santa (where everyone buys a gift for one person in the group) was the perfect way to end what has been a very hectic term.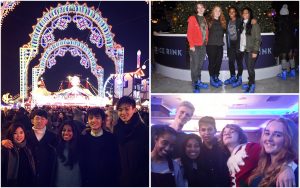 Although I have lived in London my whole life, this was my first Christmas here as a student, giving it a whole new perspective. There has almost been too much to fit into this short festive season, from enjoying the great student deals at the Natural History Museum's Ice Skating rink to nearby Winter Wonderland and the many beautiful Christmas markets and light displays across London. Within Imperial itself the festivities have continued, with ginger bread house making and decorating the kitchens, however the highlight for me was definitely the MathSoc Christmas dinner, as it was a lovely opportunity to enjoy a night of tasty food, plenty of laughs and great company.
So I guess all that's left to say is have a very Merry Christmas, a wonderful holiday and a Happy New Year! Enjoy the mandatory overeating, catching up on sleep and spending time with those around you.