Who would've thought I'd be a social sec?
After plenty of support and encouragement from my peers and some members of staff, I decided to run for a committee position in MathSoc, Imperial College's Mathematics Society. In the past the society hasn't had the best social events, and as this was something I worked on at school, I thought this would be a good position for me to run for. (definitely one of the best decisions I've made!)
Last year, MathSoc faced heavy criticism (see Imperial College Secrets/Exposed) for not having enough social events so I was so excited to be able to try and change the way people perceive MathSoc by throwing some fab events and revamping our social media platforms, including setting up an Instagram account. (@icmathsoc)
Halloween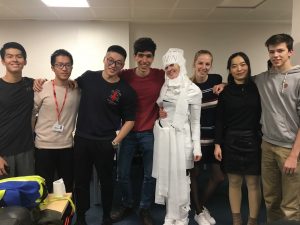 As soon as I was elected in, I was thrown straight into the deep end and tasked with organising a Halloween social. Given strict guidelines and less than 4 days, we somehow managed to pull off 'Huxley Haunting', one of the most successful campus based events the society has had recently! By encouraging people to come with their Mums and Dads families, we had 50 people split into groups ready to compete in challenges including toilet paper mummy wrap, cake decorating, transporting (chocolate) eyeballs with chopsticks and a horror quiz.
The Pub Crawl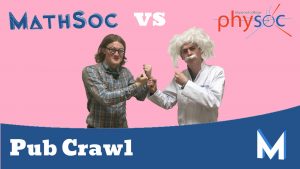 With new found confidence in the new social secs, MathSoc set about creating a load more socials than we've ever had before. Teaming up with PhySoc, we organised a pub crawl around some of our favourite watering holes in South Kensington, aiming to count the number of members of each society that managed to make it back to sports night. Although, I must admit that this didn't go quite to plan with half of the MathSoc committee bailing to Tesco and no one remembering to count people upon arrival at the union. I will therefore just say MathSoc won!
Ice Skating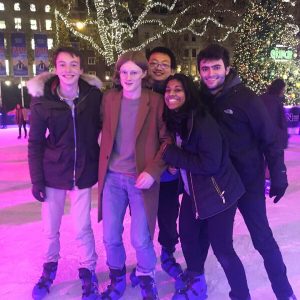 After a successful pub quiz, with free pizza and drinks, hosted by one of our sponsors, we were soon in the lead up to Christmas. Copying nearly every other society we decided to run an event to go ice skating at the Natural History Museum. (A great £9 student deal including an hour skating and a free drink incase you haven't been yet!) Our initial batch of 30 tickets sold out so quick and there was such a high demand for this event that we ended up having to purchase 20 more tickets last minute. The event itself was so much fun and with MathSoc subsidising tickets down to £5, it as a steal of an evening.
Christmas Dinner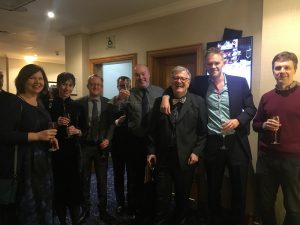 The highlight of my term has of course been the annual Christmas Dinner. In previous years this event hasn't quite gone to plan, with formal dress codes being reduced to casual and the event ending as early as 9:30pm. Bearing this in mind, we were set to create the best black tie Christmas Dinner MathSoc has ever seen, this year featuring an inaugural afterparty to be hosted at the union.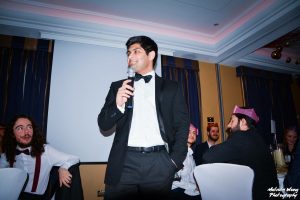 After six weeks of planning, selling out all 170 tickets in a few hours and fixing menu choices for a variety of peculiar dietary requirements, it finally came around to the big day. We were lucky enough to have 12 of our favourite lecturers sitting at the tables with us during our delightful three course meals (plus the standard half a bottle of wine). Following a speech from our President Hitesh, and a short quiz featuring funny stories from the lecturers, we headed off to end the night with free drinks and an abundance of cheesy pop music at Metric. It was great to see some of our lecturers, who shall remain anonymous, partying with the freshers into the early hours of the morning, definitely a surprise!! After an obligatory rendition of Mr Brightside at 1am it was time for everyone to go home from what was, certainly for me, the best night of the year and a perfect way to celebrate the end of term.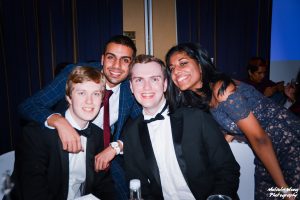 I have so enjoyed my first term as part of this committee. Not only have I learnt a great deal about the way a committee works and plenty of skills to include on my CV, but most importantly I have felt like I am a part of something bigger, and ultimately making a difference to people's university experience. MathSoc has improved so so so much this term and I am so incredibly proud to be a part of it and to have made some amazing friends along the way. Thoroughly looking forward to the rest of the year!