My first term at Imperial has drawn to a close, and what better way to summarise my last few months than through the songs of one of the most-loved bands to have ever existed; ABBA.
I Have A Dream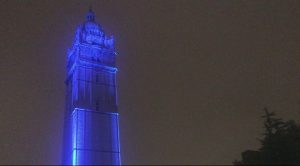 I had a dream, and I am now living it. Two years ago I realised, whilst studying for my undergraduate degree in Maths and Physics at the University of Warwick, that although I enjoyed the science I was learning, my passion wasn't to delve into further research, but to share my enthusiasm for the subject with others. This led me to Imperial College's Masters course in science communication. After gaining experience in the field and navigating the application process I landed a place on my dream course which I began in October this year.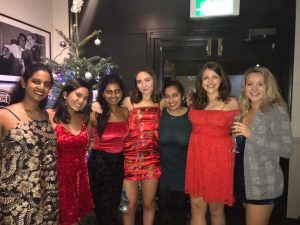 Gimme! Gimme! Gimme! (A Man After Midnight)
My time at Imperial hasn't just been filled with my course. In the first week of term I joined Dance Company – one of Imperial College's dance clubs, to continue one of my life long hobbies, tap dancing. Dance Company participate in university dance competitions in a range of styles; contemporary, jazz, ballet and tap. I am part of the advanced tap team whose competition dance is to the ABBA classic, Gimme! Gimme! Gimme! (A Man After Midnight). I have met so many wonderful dancing queens through this society who have brought so much fun and laughter to my first term at Imperial.
Waterloo
October not only marked the start of my studies at Imperial, it was also the first time I had lived in London. I am pleased to say I have managed to see more than just Waterloo underground station in the last few months. Around the South Kensington campus where I am based, I have visited several world famous museums, such as the Victoria and Albert Museum, the Science Museum and the Natural History Museum. In such a huge city it's easy to think there are no green spaces, but I have seen the Kyoto Garden in Holland Park, visited Fulham Palace in Bishop's Park, and watched a colourful fireworks display in Ravenscourt Park. The Barbican Centre, Lady Dinah's Cat Café, the British Museum, the Theatre Royal Haymarket … the list goes on of the variety of places I've seen in the last 12 weeks.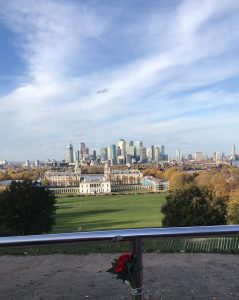 Money, Money, Money
To help me live my best life in London I decided to get a part time job. In November I began working as an Observatory Explainer at the Royal Observatory, Greenwich. For four hours a week I help deliver creative activities to families to engage people of all ages in space, and also give talks to visitors on topics such as the mapping of Mars. Not only does the Observatory boast one of the best views of London (see the evidence…), but it is also home to the Greenwich Meridian- where East meets West at a longitude of 0º. As well as providing some money, (money, money) this job is a great opportunity to practise some of my science communication skills.
Knowing Me, Knowing You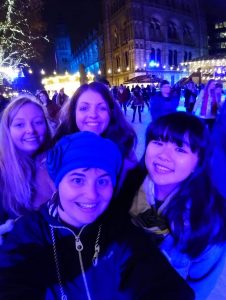 A new course in a new university in a new city means new friends! Whilst the initial fear of not making any friends did make me wonder should I laugh or cry (obscure reference there for hardcore ABBA fans), it was not necessary as everyone on the course soon became firm friends. With weekly trips to h-bar, the Imperial College postgraduate bar, multiple group projects, and frequent outings, like to the Ice-Rink at the Natural History Museum, it has been a pleasure getting to know everyone and learning from the diverse range of knowledge this course has brought together. To term two I say a big I do, I do, I do, I do, I do.