Cancer Awareness in Young People Week (CAYP)
This coming week, Imperial College Netball Club (ICUNC) is set to bring you a charity week, hoping to increase cancer awareness in young people and also raise money for charity. Fil, our 1st team captain, has written an incredible article about our vision for the week in Felix.
The charities we are supporting include:
During the week we will be working with a number of other societies to host a variety of events that you can get involved in, from talks to netball, ACC and more. There has always been a certain taboo surrounding cancer, we hope that during the course of the week people can come along to some our the talks we have planned and learn about cancer symptoms,  how to check for them yourself and when it's a good idea to speak to your GP. Through talks being delivered in a lighthearted manner, we hope to remove the idea that talking about cancer is scary, we just hope that everyone is able to take something away from the week being more aware about cancer and spotting signs, as it is scientifically proven that for many types of cancer, the earlier it can be diagnosed, the survival statistics greatly increase. This is something very close to our hearts at ICUNC and we hope to do it justice, raising some money for charities who do so much for young people with cancer and most importantly hoping to educate on cancer, stamping out the taboo and all in hope of increasing awareness in young people.
So how can you get involved?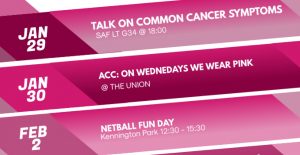 Chats About Cancer
Tuesday 29th January, 6pm
SAF Lecture Theatre G34
Come along to hear a little bit about cancer symptoms in a talk give by some of your fellow students. We'll also be talking about how to check for symptoms and knowing when to speak to your GP. This is something that all young people should be aware of and can really save lives.
Bring all of your friends and everyone you know!!
On Wednesdays We Wear Pink – ACC
Wednesday 30th January 8pm – late
ACC – look out for the union adorned in pink!
This ACC we are going full out in pink, like even more than usual!! (like even more than our committee tops in metric?) Come along for some snakebites in your favourite mean girls attire. A sports night raising money for charity it doesn't get better! See you there – look out for the girls in pink!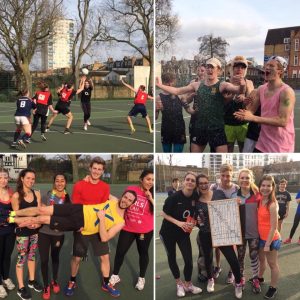 Netball Funday
Saturday 2nd February, 12:30-15:30
Kennington Park
£3 per person (all for charity!)
Get yourselves into a team of 7 and come along to have a stab at Netball. No previous experience required, don't worry if you don't know the rules! Fancy dress and some beers are strongly encouraged for the full experience! Check out our Facebook event for more information!
I will also be taking over the Imperial College Instagram account on Saturday to share all the fun! Stay tuned!
We hope to see you at some (or all!) of these events. We want to people feel more comfortable talking about cancer, as talking about cancer can ultimately save lives.