Instead of flying back home for the holiday break, I ended up staying in London. Since many of my friends were out of town or spending time with family, I was afraid that I would be unbearably bored— fortunately I found that London has plenty to offer displaced students over Christmas.  
Christmas Markets
As expected from a city where the Christmas lights come out in October, London is overflowing with Christmas markets come December. Whether purposefully seeking one out or stumbling across one accidentally, I loved passing through them for the lights and lively atmosphere. 
 
Staying In Shape
Parkrun, which facilitates free timed 5k runs in the UK, has been a key part of my fitness routine while in London. Shops and transit may have been shut down for Christmas, but Santa hats and elf ears were out in full force at my local park's Christmas Day Parkrun. Dashing (okay, jogging) around the park on a beautiful morning made me feel better about all the food I was planning to eat later, and I even managed to achieve a personal best with my time. A real Christmas miracle!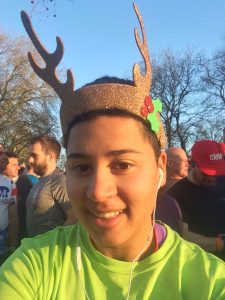 Eating
In addition to getting treated to Turkish food on Christmas, courtesy of my accommodation, I ventured around London to try some of the great food the city has to offer. Curry on Brick Lane, sandwiches from Borough Market, takoyaki and ramen, Malaysian noodles, classic pub food… My stomach was very happy, although my wallet less so. 
Museums 
December is a great time to visit museums and cultural centers since things are pretty quiet. I went to the Wellcome Collection and British Library for the first time, spent a cozy afternoon at the Barbican, and saw the Nam June Paik exhibition at the Tate Modern. Protip: if you're 25 or under, join the Tate Collective (it's free!) to get discounted exhibition tickets. 
Catching Up 
On
 My London Bucket List
The biggest (or tallest) thing on my bucket list was to check out the view from the Skygarden, aka the observation deck of the Walkie Talkie building. I had a friend from home visiting, so I didn't feel too bad about embracing my inner tourist.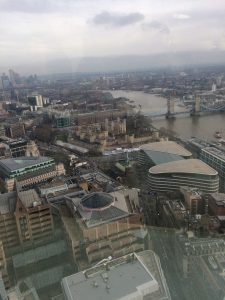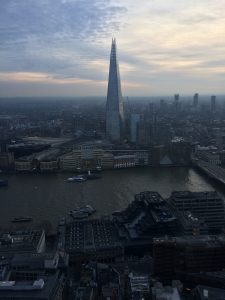 All in all, I had a quite fun and relaxing break. If you are in London alone over the holidays, not to fear: there is plenty to do, and quite a lot for free!