Huxley Building is on the South Kensington campus and is the main building for computing students. Having been coming to Huxley every day for over a year now, I know by heart how to navigate through the most important points there. However, there are some rooms in the restricted lab area (which I should be most familiar with!) I haven't really noticed or used until recently and are very useful, either for working or well-being. These are my subjective hidden gems in Huxley.
Tea Point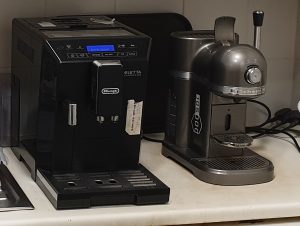 It's been definitely my biggest discovery so far. I couldn't even believe that I kept passing by this place without noticing it actually! It wasn't until someone mentioned it on the Facebook year group chat that I had a proper look at the tea point.
When I went there, I couldn't believe my eyes. Even though it was a small room, it had so much to offer! A fridge, a kettle, a beans-to-cup and capsule (Nespresso) coffee machines (!) shown in the picture, free coffee beans, tea bags and hot chocolate, storage cupboards for personal stuff, an actual kitchen sink for washing up things…I was in heaven. Nearly. I wish there was a microwave as well (since students on some other courses have one) 🙁
Currently, I use the capsule coffee machine a lot as I have a similar device in home. Every time I go to campus, I take a few pods with me. Then, whenever I want some coffee, I just go to the tea point and make a quick cup. It feels special when I have an opportunity to have exactly the same coffee on campus and in home. It's also a pretty good way to save money, given that an original Nespresso capsule costs ~£0.35 and the cheapest coffee you can buy on campus costs £1. The savings accumulate quickly if you drink coffee every day, like me 🙂
Quiet Lab
There's an inconspicuous door at the end of the main computer lab, behind a printer corner. Once you find it, you'll realise fast what valuable room it points to. The Quiet Lab, as the name suggests, is a place where you can work alone without ever worrying about too big noise or somebody interrupting you. You can even sit down on a sofa there, so it's a perfect room for some deep relaxation with listening to nature sounds on headphones 🙂
There's one disadvantage though: people often have to run programs involving heavy background computation on machines in the quiet lab. Because of that, many computers are basically unusable even for simple activities like surfing the Internet. However, it's not a problem at all if you have your own laptop as this room has plenty of dedicated laptop space.
In short, it's a really good idea to research thoroughly all rooms and services available for students once you start studying at Imperial, either on campus in general, in your own department or through your departmental society. It will quickly pay off!