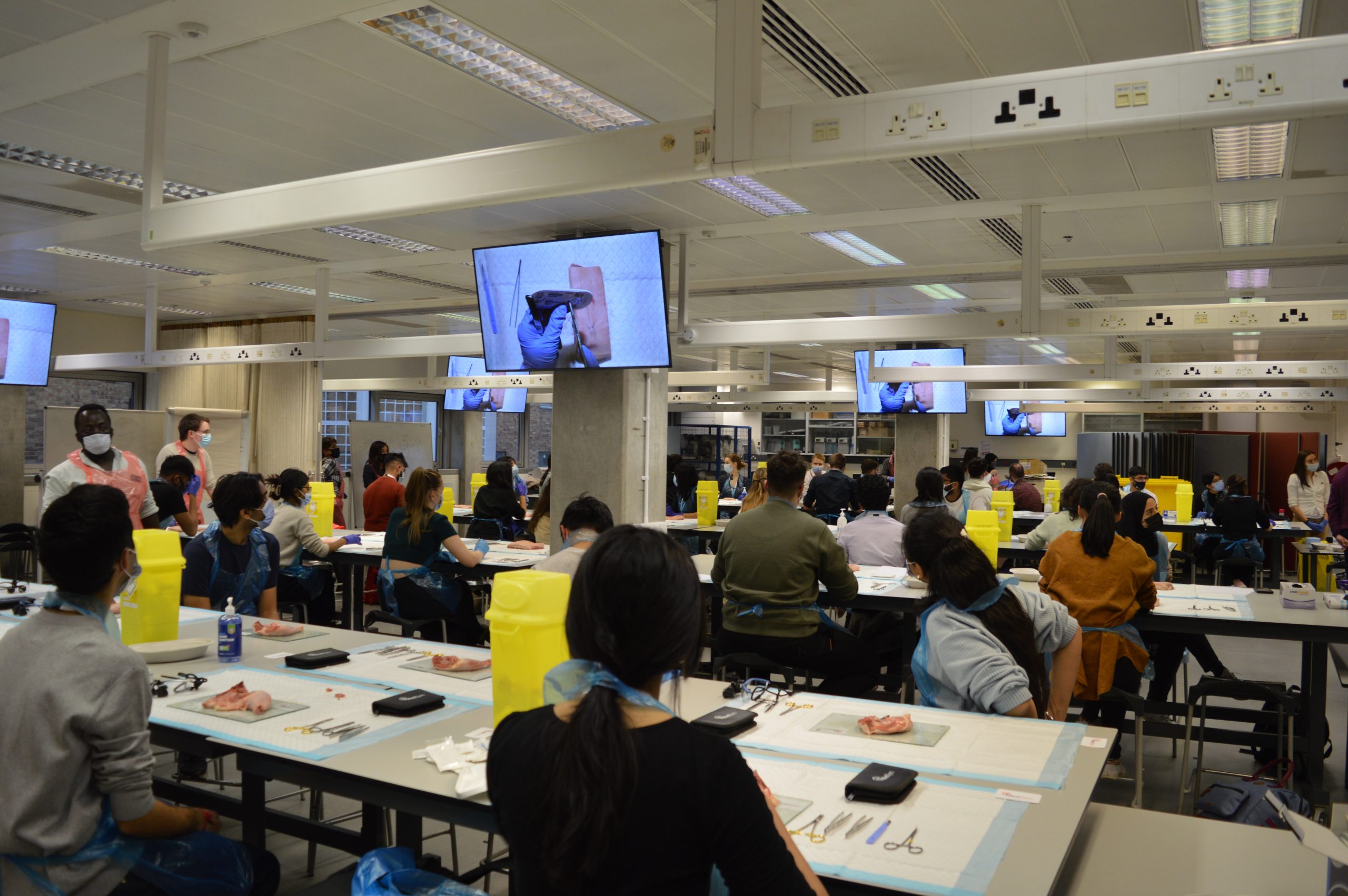 At university, student societies make up as much, if not more, of your overall experience than the degree you choose to study. On balance, they can also take up just as much of your time. For the past few years, I have been a particularly active member of ICSM Surgical Society (SurgSoc). This year I had the privilege of being tasked with organising the annual 'Plastics Skills Day' conference. I say annual, but the truth is that this event had not taken place in-person since 2020 because of the COVID-19 pandemic. In fact, no SurgSoc conference had happened in person since 2020. This event is the first!
For context, pre-COVID, SurgSoc ran four skills day events every year: Foundation Skills in Surgery, Plastics Skills Day, Orthopaedics Skills Day and Vascular Skills Day. These events typically comprise a series of lectures, delivered by some of the country's finest surgeons, followed by an afternoon of workshops run by surgical trainees. The workshops are often the highlight of the SurgSoc calendar as we purchase medical-grade meat and equipment to give delegates the opportunity to practice surgical skills.
Plastics Skills Day 2022 was set to follow this same tried and tested formula. Except this formula had been sitting on the shelves for a couple of years. While this meant there were a lot of things I needed to figure out for the first time, it also gave me the freedom to run the event however I felt was best. The trouble was, in all honesty, I hadn't really done anything like this before. I'd never contacted surgical organisations to ask for sponsorship, completed a full-blown risk assessment, or plan surgical skills workshops. I was acutely afraid of messing things up. But what I love most about being part of society as well established as SurgSoc is that it gives you the platform to contact whoever you please (so long as you pop the trusty phoenix logo at the bottom of your email) – be that surgeons, sponsors or organisations.
Planning for the event started unofficially in summer but kicked off in full force in October when I had my lovely subcommittee team assigned to the event. Despite this substantial head start, with Omicron thrown into the mix, it's fair to say we had our fair share of obstacles to tackle along the way. The biggest challenge of organising any event is accepting that things won't go exactly to plan, not matter how meticulous the plan was. We jumped back and forth between running in-person, then online, and (thankfully) back to in-person again.
The event itself still feels much like a blur as from the moment I got to the Sir Alexander Fleming building at 7am, until 6pm when the conference drew to a close, there was constant action. We managed to transition between our six wonderful speakers with miraculously little technical difficulty before running the conveyer belt of workshops in the afternoon. Although it didn't always feel that way in my head, I was resoundingly told that the event seemed to run incredibly smoothly, which was all I really wanted to hear.
Now a couple of weeks on from the event I've been perusing the feedback from the delegates, demonstrators and speakers. Given how anxious I was about not running the event properly, it's been the best feeling reading the overwhelmingly positive feedback we received. The night before the conference I had thought I would be so relieved after I saw the back of it. I didn't expect to wake up feeling just a little bit sad that it was all over, although this was coupled with intense gratitude that everything went well. The event was only made possible thanks to the amazing team of SurgSoc committee and subcommittee who helped with planning the event and executing it on the day.
Society events are made by the camaraderie and team spirit embedded within them. Plastics Skills Day 2022 may be over now, but if you asked me to do it all again, I'd say yes in a heartbeat.