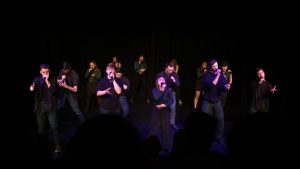 As someone who is involved in the A Cappella community, The ICCAs (International Championship of Collegiate A Cappella) is one of the most exciting events in the year for collegiate A Cappella groups around the UK and US. For those who are wondering what exactly is the ICCAs, it is a competition for collegiate groups to showcase a 10 minute set of A Cappella music. This allows the groups to unleash their creativity in creating diverse arrangements and wicked choreography, allowing the audience and judges to appreciate a night of constant surprises. In other words, it is basically the competition seen in the movie Pitch Perfect.
Even before coming to Imperial, I have been involved in several small A Cappella projects back when I was studying for my A-Levels. I have always had a deep appreciation for creating stellar harmonies with just our voices, and to be involved with The Scopes – Imperial College's mixed contemporary A Cappella group throughout my years in Imperial has been one of the best things that have happened in my life. The last time The Scopes has participated in the ICCAs was back in 2017, and we've been out of the competition loop since. This is partly because signing up for a competition as such was a huge commitment, requiring everyone in the team to give in their all for it. I've debated long and hard on whether this would be something I would like to take up during my final year in Imperial as well, as I was afraid this would interfere with my studies too. However, I decided that if not now, I would never be able to achieve an experience like this ever in the future. And I hope that looking back at my days in Imperial, this will hopefully be one of the highlights of my time here.
Behind The Scenes
We were so fortunate to have a group of people with diverse talents this year. Having members experienced in musical theatre enhanced the visuals in our performance set and allowed us to learn choreography easily. Members with outstanding musical knowledge came up with a unique arrangement set, bringing our audience through a series of emotions in a mere 10 minutes.
Something that audiences tend to forget is that a 10 minutes set that is performed on stage requires a year's worth of preparation and rehearsals. The team has been working hard churning out arrangements, making improvements and sharing ideas together since the beginning of last summer. The Scopes have been rehearsing hard after classes in order to nail complex rhythms and challenging choreography. It was a stressful time for all of us as we had to balance this on top of our studies, but the journey also brought to us a family that is always there for us through thick and thin.
Through every rehearsal and showcase, I've been recording snippets of videos to document our journey. Looking back at it now, it amazes all of us how far we have all come. Even though we did not win in the end, I felt an immense sense of pride in what we delivered to the audience in that mere 10 minutes, and all the hard work through the past year was worth it. The journey also made me appreciate the A Cappella community in the UK so much more, as everyone was so supportive of each other's music and happy for each other's achievements.
It has been a wild ride for me here with the A Cappella society, but I am forever grateful that I decided to step into the audition room and let the waves bring me to unexpected journeys. With a checkpoint crossed out of our bucket list, we are now onto more exciting events and gigs through the remaining time we have left in Imperial 🙂
P.S.: Subscribe to us on Youtube for the latest releases!