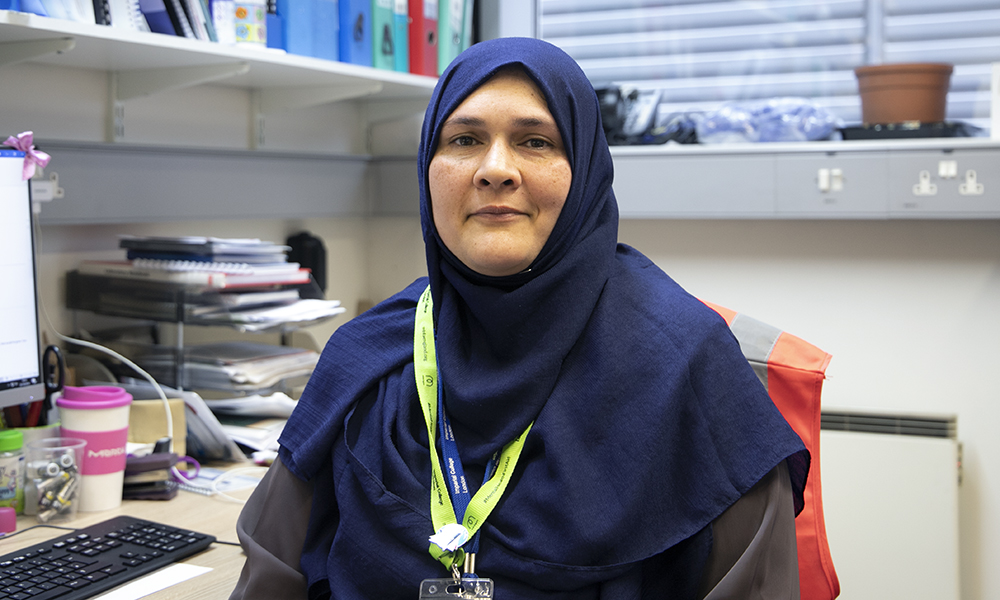 In the latest instalment of our Staff Profile series, we spoke to Shajna Begum, Laboratory Manager for the MRC Centre for Molecular Bacteriology and Infection (CMBI). 
---
Introduce yourself – who are you and what do you do?
My name is Shajna Begum and I am the Health and Safety Coordinator/Lab Manager for the MRC Centre for Molecular Bacteriology and Infection (CMBI). Here, I am responsible for the administration and management of six floors of research laboratories within the CMBI, including the Containment Level 3 (CL3) suite in the SECB. I support FoM and FoNS academic staff (20 research groups) in their health and safety responsibilities without detracting from the primary business of research and education. I advise Principal Investigators, Departmental staff and students on day-to-day operational safety and compliance with College and statutory requirements.
I act as the CMBI Health and Safety Advisor for biological, chemical, radiological, manual handling, display screen equipment, First Aid and Mental Health First Aid Safety. My role requires regular communication of all relevant discussions, safety policies, procedures and initiatives of the relevant departmental meetings back to the CMBI and vice versa. I ensure all staff and students are appropriately trained in Health and Safety matters and such training is recorded and updated when necessary.
I also ensure site safety of external contractors, work experience students and estates maintenance staff by arranging permits-to-work, risk assessments and equipment decontamination certificates. I liaise with College Security, Crime Team, Safety Department, Learning and Development, Faculty/Department Safety Advisers, Compliance Managers, Occupational Health, external contractors, company representatives, College Estate Managers and Soft Services as and when required.
When did you join the College, and where were you working before this?
I graduated with a BSc in Microbiology and Biochemistry in 1999 and joined the College in July 2001 working at the Kennedy Institute of Rheumatology as a Research Assistant for the proteomics facility. Since 2011, I have worked as a Lab Manager on the South Kensington Campus, initially in Biophysics, and then in the current location which is shared by the Departments of Infectious Disease and Life Sciences.
What's been the biggest highlight for you since taking up the post?
Meeting and working with so many different people of all backgrounds from both within the CMBI, the College and external stakeholders.
What's the most interesting part of your role?
No two days are similar. Each day brings new ideas, new challenges and new knowledge, which I am still loving after five years of being in this role.
What's the most difficult aspect of what you do?
Trying to convince Principal Investigators that requesting them to do a particular task which is mandated by Department is only in their best interest.
What's one thing you'd like to change about the Department's and/or the College's working culture?
The College needs to consult with all relevant people, including lab managers, who are at the user end of the workforce before rolling out a new policy.  This will help the College to understand how effective the compliance of this policy will be by the users, and whether anything can be done to fine-tune it so that it is readily acceptable to everyone.
Where do you see yourself in five years?
I plan to move into either managing other lab managers or working as the Faculty/College Health and Safety advisor, but who knows where I will end up. The great thing about life is that it's always full of surprises.
What are your biggest hobbies/passions when you're not busy at work?
I love to spend time with my parents, but due to my schedule, I do not get to see them as often as I would like. I also love eating out and trying new dishes.
If you were exiled to a desert island but allowed one luxury item, what would it be?
My supply of morning and evening milked tea with two biscuits.
And finally: what's one thing you'd like staff in the Department to know about you or your role that we haven't already covered?
I think being in a health and safety role can sometimes make you come across as a bit intimidating. However, my main role is to look out for everyone's health, safety and wellbeing, so you can always approach me with any issues you have, whether it's personal or work-based. I will try my best to help, or at least provide a pair of ears to listen. Being a mother of four (two boys and two girls), it's in my nature to be kind and caring (but firm when I have to be) and I also extend these tendencies to my work colleagues.