From participating in Imperial College London's Global Summer School back in 2018, to mentoring programme students and graduating in BSc Physics from Imperial in 2022; the two-week summer programme has played a big role in the past five years of Sinisa's life. In this blog he gives the inside view of Imperial's flag ship STEM summer school.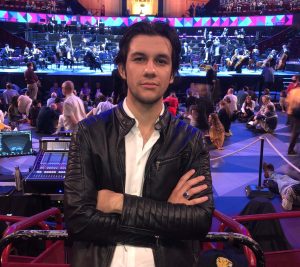 Global Summer School takes place over two weeks, with the first week focused on a specific subject area. My field was Physics which covered topics such as oscillations, waves and computer programming. Taught by Imperial academics, I recall finding it a challenging but rewarding curriculum to digest in the space of only a few days. Thankfully the support from both the academics staff and student mentors meant there was always someone on hand to answer my questions. The teaching staff shared their subject knowledge with such passion and enthusiasm, making the content all that more engaging for us students.
The second week revolved around solving a real-world challenge within a team of students from other academic subjects, whilst using the knowledge and expertise acquired in the previous week. This was my first time working within such a diverse group of people and meeting people from all over the world. It truly opened my horizons and with Imperial being such a diverse international community I felt like it really helped me when starting as an undergrad at Imperial myself.
Getting a taste of student life
My favourite part of Global Summer School was the unique insight it provided to being an undergrad student in London, along with the incredible social activities organised by the team; from seeing my very first musical on the West End to our day trip to Brighton.
I was left with such a great impression from my time at Global Summer School, so much so that it had solidified my decision to not only make Physics my area of study, but to make Imperial my first choice when applying to university.
Becoming a mentor
At the heart of the programme are the mentors, who are current Imperial undergrad students. The mentors support both the academic and social side of the programme and played such a key role in my experience, that it prompted me to sign up to become one myself. I have enjoyed working multiple different sessions over the years both online and in-person. It has been fascinating getting to know all the students, helping to coach and support them as they each use their strengths to come together for the final project. Having attended Global Summer School as a student myself and watching them present their impressive final presentations always feels like a very full circle moment that I am proud to be a part of.
Preparing for undergraduate studies
I believe Global Summer School holds so much value in preparing students for an undergraduate degree, providing them with the independence and responsibilities that come with starting university and living in halls. As such a big city, London can often be deemed intimidating, especially for students that young. However, I really feel that the exposure to living in the heart of London whilst on the programme was really beneficial and made the move there that little bit less daunting.
If there was one piece of advice, I could give to students looking to apply to Global Summer School it would be to make the most of it and not be afraid to ask questions. It is the perfect opportunity to learn more about the subject you may want to study at university and get that first contact with Imperial academics and mentors.
Looking back at my time at the Global Sumer School, I would highly recommend to anyone looking into summer schools to consider applying for Global Summer School as you never know where it might lead to and you might even decide you like it as much as I did and choose to apply to Imperial when the time comes.