One of the things I love best about London is the flat that I share with my wife in Maida Vale. It's small but it's got enough room for the both of us with its loft design. It's in a lovely area with amenities all around. And it's a 7-minute bicycle ride to school. Can you blame me for liking it so much?
Finding the perfect place to rent, however, wasn't exactly a cakewalk. I saw 18 different flats, trekked all over London, lost sleep and definitely grew a few white hairs over the two weeks I was house hunting. I learned a few things in the process and hopefully sharing them here will make the private renting process easier for you.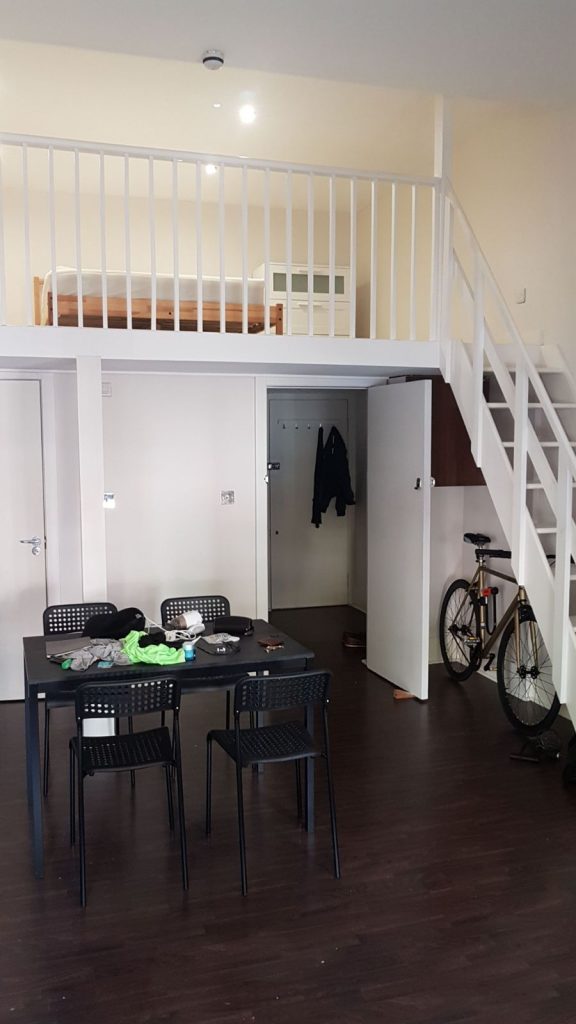 The apartment my wife and I share before furnishing
1. Get a head start, but not too early
Websites like RightMove, Zoopla, GumTree, OpenRent and Imperial Home Solutions are great for checking out potential places before you even arrive in London. However, if it's still more than a month from when you hope to move in, don't have your heart set on those saved places just yet. The market here moves so fast that most of the good flats/rooms (i.e. nice, reasonably priced) are gone in a few days. According to a housing agent I spoke to, many of their listings on RightMove are snapped up before the professional photos are even ready. Still, that doesn't mean you can't start getting a sense of the market beforehand and that's where those housing websites really come in handy.
2. Get in with the agents, or find a service that will do that for you
Most of the time, letting agents quite literally hold the key to your dream home. Few of the places I found online were available when I sent an enquiry. Instead, I got a call from a letting agent who took down my requirements and budget, then arranged several viewings from his/her list. These "letting tours" allow you to cover a lot of ground at once and all you need to do is show up and hop in their car. The larger letting agents like Foxton's, Dexter's and Black Katz are especially helpful as they have big networks and can show you a wide range of options. Smaller ones will be more neighbourhood-specific. You can also try a service aggregator such as Homie, who set up multi-agent tours, so you don't have to deal with 10 agents at once like I did. Homie is free for Imperial students and I really wish I'd known about them when I was house hunting.
Case in point about the importance of letting agents: I found my current flat only because a letting agent brought me to see it before it got listed online. I quickly made sure it never did.
3. See it with your own eyes
I learned first hand how properties can look very different from the pictures posted online. I viewed a 1-bedroom flat on Edgeware Road that looked great in pictures but turned out to be located in a crumbling building on a dingy back alley with graffiti all over the stairway. The online images were accurate, no doubt, but they didn't say anything about the flat's surroundings. Another place I found on OpenRent had no pictures but turned out to be a beautiful large studio in Shepherd's Bush. The bottom line is, if you haven't seen it with your own eyes, don't even think about settling.
4. Take time to weigh the costs and benefits 
Halfway into my search, I very nearly sprung for a flat directly opposite St Mary's campus, literally a 100 m walk to school. However, after taking time to talk it over with my wife, I realised it was much too small and also, located right above a kebab shop's kitchen. We eventually settled for a place that was further away but in a much nicer location.
That said, transport is a key consideration in London. Taking the Tube to and fro every day is very expensive and it may turn out to be cheaper overall if you find a place within walking distance from school.
5. Understand the terms and costs involved in renting
Using an agent typically comes with a bunch of administrative fees on top of the rent. These can vary a lot from agent to agent so always read the terms carefully. The ones on my contract are:
Six months rent upfront: This is standard practice if you're an international student without a local guarantor
Admin / Referencing fee: Each person moving into the place needs to be vetted by the letting agency. Besides the fee, you'll need to send in contact details of your former landlord or anybody who can vouch for you, plus a bank statement showing you have sufficient funds.
Inventory fee / Check-out fee: It can sound silly to pay for someone to count how many things there are in the flat but that's just how it's done in the UK.
Fees can vary significantly depending on letting agent. Here are a few I encountered during my own search.
Agent A
Agent B
Agent C
Admin Fee = £156 per person

Referencing Fee = £144

Check-Out Fee = £120

Admin Fee = £180 per person

Inventory Fee = £125

Tenant Fee = £250 per person

Inventory Fee not stated
Alternatively, if you can find a place on OpenRent, you can usually avoid paying some of these fees since you deal with the landlord directly.
6. Have enough cash in hand to pay the deposit
Making a deposit on my home was a very stressful exercise that would have been resolved if I'd had enough cash on hand. Basically, I needed to do a bank transfer to secure my tenancy, but I couldn't open a bank account until I had a residential address. Fortunately, the bank staff realised the Catch-22 situation, called a bunch of managers and managed to get me all set up after an hour. Save yourself the drama if you can.
7. Don't panic, there are always more options
You do need to move fast but try to avoid making a panic decision. Remember that an active market also means that new properties are getting listed all the time, so if you can wait, wait.
It's also important not to despair.  After 10 days of searching, I thought I'd found the perfect place in Shepherd's Bush, only for the owner to give it to someone else because she didn't like renting to students. I was in a real slump for a couple of days after that, and ready to spring for the first property that came my way. Luckily, my awesome wife advised me to take a break and be a tourist for a couple of days before starting again. That's what I did and my current place found me soon after.
For more tips, I recently did a bunch of videos with the Imperial Student Hub. Happy to answer any questions about the renting process if you have them 🙂