First things first, who saw (and recognised) that The Hobbit reference in the title? 😉 🙂 🙂
***
Anyway moving on to less important stuff the main point of this post, every international student (whether Imperial student or otherwise) should have heard of HOST UK. And maybe go for a HOST visit at least once over the duration of their study here. No? Well, you must!
So what is HOST UK?
HOST UK is a charity that arranges visits for international students to stay with a host family anywhere in the United Kingdom. The visits can range from a day or 2-3 over the weekend. You can find out/ read more here if you're an Imperial student (because I'm too lazy to explain more sorz).
Accommodation and meals are catered for by your host and The International Student Support office will cover the application for ONE visit throughout your time here for Imperial students (so you don't need to pay or it's FREE!!!)
Well, me being me, when I see the word 'free' there, I immediately decided to apply for a visit because why not, right? I get to live with some posh British family somewhere for 2-3 days FOC and I get to travel somewhere I've never been before without needing to worry about food or hotels. I did have to pay for travel myself but hey, that's not exactly a bad deal…
APPLICATION PROCESS
The application is done entirely online (so you won't have an excuse to not apply lol). You just need to register and put down some of your personal details such as;
contact details
dietary preferences (like no pork and alcohol, vegetarian, etc),
your maximum travel budget (I put in £15) and how far you're willing to travel (whether somewhere close to Imperial or you're willing to go further; like somewhere in Scotland),
allergies if you have any,
whether you're applying for a day visit or a weekend visit, and
3 dates on which the visit can take place (you should try to be specific but you can still change these later if something comes up)
You can even bring a friend but they'll have to complete a separate application and you'll both need to indicate that you're going together in your forms (there'll be a place where you can do this). Anyway, I decided that I wanted to go by myself this time.
After you've completed the form, there'll be a short wait since HOST will need to verify with Imperial that you really are a student here. It'll probably be about a week before anything happens (unless you're lucky and the ISS is quick to confirm your attendance here). You should take this time to confirm the dates you've listed before and make sure you really are free on those days.
After all that, a representative from HOST (most likely a regional organiser) will email you regarding your visit. You will need to confirm your dates then and this will be your last chance to make changes to them. You will not be able to change them after this so make sure you are okay with them. After you've confirm those dates, the officer will start looking for invitations for you.
MY VISIT
My visit took place on the weekend of December 8th last year (I know, it's been a while… but I've been procrastinating heheh) in Harpenden. I was staying with Donald and Gill (aka Mr. and Mrs. Robertson), and another student from King's College.
Now that everything was set, I was starting to get a little nervous. What if they don't like me? What should I bring as a gift? What if they think I'm weird or snobbish or something? What if they're like super posh and proper and I embarrassed myself? and basically every negative thought you can have.
So Friday afternoon after Earth Materials lecture, I took the train to Harpenden with my trusty rucksack, a box of chocolates and my heart beating like mad.
Turns out my worries was for nought. Gill and Donald were excellent hosts and we had very interesting conversations about boats (Donald used to be a sailor), gardening/ plants (Gill loves gardening), dessert (we all have a sweet tooth), etc. We also played some games and I even had the chance to talk to their son-in-law who grew up in Malaysia (we spoke Malay on the phone XD) Also, Gill is an amazing cook. Simply said, everything was perfect.
We went for a walk and took the bus to the Railway Museum on Saturday.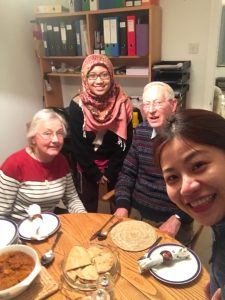 On Sunday, the most amazing surprise was waiting for us that morning. It was snowing!!! Heavily. Heavily enough that we managed to make a snowman and had a mini snowball fight. I was my first time seeing snow and it was the most magical thing evahhh. I was kinda bumped that the weekend seem to fly so fast. Thankfully, all of us are still in contact now. That goes to show that such relationships do last (I feel all warm and fuzzy inside now) 🙂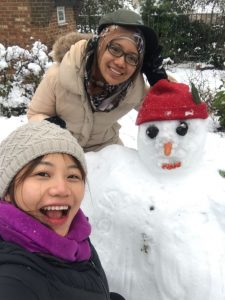 I hope I've convinced you now. So what are you waiting for? Go grab yourselves a HOST visit now XD Toodles!