One of the best parts of my life at Imperial
With the Netball season coming to a close, I thought it was time to reflect on another year as a member of Imperial College Netball Club (ICUNC). If you've ever seen me around campus during the week, there's a high chance I was probably covered head to toe in Netball Stash, but my love for Netball and the girls at ICUNC doesn't end there.  As a girl at Imperial, it can be pretty lonely, but the saving grace has been the incredible girls I have met through Netball. Training together through the freezing winter, matches in the rain and Sports Nights going wrong has made me so close to all of the girls in my team and the rest of the club, and I have so appreciated always knowing that I have a whole team of girls to turn to.
Varsity 2019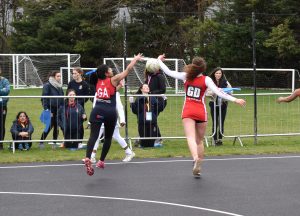 The end of the sports side of the Netball season always means Varsity, where all IC teams take on their medic opponents. After an early start all the teams made it out to our home grounds at Heston ready for a long day of netball, cheering and of course a few pints. The whole club came together to make sure there was a crowd watching by the sidelines cheering on the teams playing throughout the day, however the highlight of the day was of course the 1st team's showcase match. Crowds gathered in their hundreds, cheers got louder (and more aggressive tbh) and everyone was ready for a showdown. Our first team ladies did not let us down, winning the match and making it look easy!
Even if all the ICUNC teams didn't win at Varsity this year, we had an absolutely amazing time showing off how hard we've worked over the year. Seeing how well my own team came together in the lead up to Varsity and then pulling together despite mid-match disaster when one of our shooters taking a tumble, made me feel so incredibly proud of them.
Annual Dinner
Every year all of the members of ICUNC gather to celebrate another successful year for the club. Having attended the event last year with only 4 other members of my team, I was absolutely delighted to have my entire team of 12 all coming along this year. Aside from the classic three course meal, we were treated to a slideshow of photos from the year, speeches from our club captain and award winners and of course plenty of fines. It was a chance for captains to give out awards to the girls in their teams and to just spend some much needed time with our teammates before Netball gets disbanded for exam season.  The thought of saying goodbye to people leaving Imperial and celebrating everyones awards left not a dry eye in sight. But they were happy tears, tears knowing what an amazing years it's been for everyone.
I really cannot put into words exactly how much I have appreciated everyone in ICUNC. Especially our Club Captain Charlotte, who this year has massively respected all of the teams in the club, inspiring me to keep my team motivated and consequently given us some great wins, showing everyone just how much we've improved. Credit has to also be given to our coach Jackie. Her perseverance and patience with us throughout the year has allowed us to learn so much, try out new skills and ideas and have fun whilst doing so.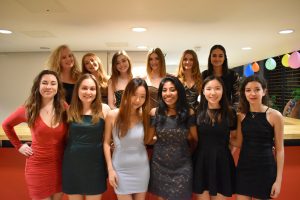 But most of all I really have to thank the girls on my team. I have been so fortunate to be able to captain you throughout this season. You've been so committed and tried your hardest at every single game and stayed positive despite losses. You've made netball so special to me this year and I am so grateful for that, I am so glad to have a friend in each and every one of you. Thank you so much.
Netball Love xx