I guess many of you came across Imperial Horizons when doing research about our university. For those who didn't: it's free classes (held once a week at 4-6 PM) which give you a chance to learn something outside of your main course and get it indicated in your final transcript. There is a really wide range of topics available for every student and once chosen wisely (read on!), it's a great way to jump away from your everyday lectures and labs! Horizons isn't only about languages: the picture shows what modules I could pick for this year.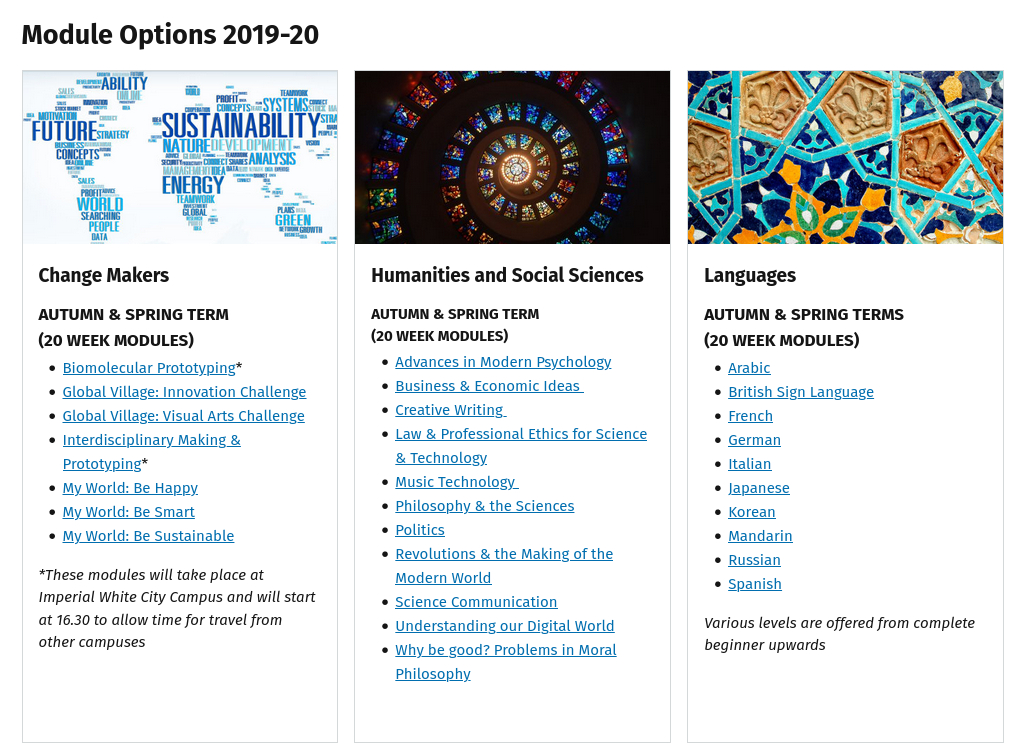 You can also see this list by yourself: https://www.imperial.ac.uk/horizons/module-options/2nd-year-undergraduates
First years don't need to worry about choosing a Horizons course until late September / early October. However, things are different for non-freshers. I had to fill in the enrolment form by the beginning of July at latest to be considered for classes starting in October. As I didn't want to do any language this time, I opted for the following preferences:
Advances in Modern Psychology

Revolutions & the Making of the Modern World

Science Communication
My heart was set on psychology since this intersection of science and humanities was most exciting for me (and still outside of my main subject). However, I was initially allocated to the second choice, because my first one was oversubscribed 🙁
I signed up to the waiting list though, because I already knew from experience that people tend to withdraw from Horizons. And a week before the first class, I got an e-mail asking if I was still interested in psychology as free space had become available. I think you can guess my answer 🙂

I've already been through one term of the course now: it's my first Horizons module I haven't dropped so far where I attended so many classes. The lecturer is an expert in the field since she is a psychologist and researcher herself. The classes are engaging, the topics covered are fascinating and I can definitely relate them to the real world and myself. Also, assessments and weekly preparation exercises are intellectually rewarding, even though they aren't always easy. Reading actual research papers and writing one based on an in-class experiment speak for themselves!
Although I'm happy about the module I picked now, I attended two Horizons courses before (in my first year) and the experience wasn't as good unfortunately. The most prominent example is Entrepreneurship, where the main assessment was group-based. I found the course interesting and useful as well, but this feeling perished when a team I was supposed to complete the assessment with broke up in the middle of classes. Why? People dropped out of the module (there are many valid reasons for withdrawing, so I'm not suggesting this is bad). Because of that, I was allocated to a new group (created from all teams fallen apart), but it was difficult for me to catch up with new members and vice versa. Therefore, I effectively couldn't finish the assessment. As this situation already costed me a lot of stress, I ended up…withdrawing.
What's the lesson? Either choose students you want to team up with carefully or avoid modules with long-term group exercises as their main assessment method. Otherwise, you may struggle to finish Horizons without your fault!