I love coffee. I drink coffee every single day and will probably do for the rest of my life <3. This is why I was beyond excited when I found out about the London Coffee Festival (LCF). I remember buying tickets with my friend last year during a sleep deprivation-induced haze- coursework life :). It ended up being one of the best experiences I have had in London so far.
The LCF takes place in the Old Truman Brewery in Brick Lane. This year marks its tenth anniversary and it is one of the biggest gatherings for coffee lovers in Europe! It is usually held for 4 or 5 days with public and industry days. You can get a VIP or a standard ticket depending on your budget. The tickets are slightly pricey but if you love coffee enough, they are worth it. I obviously bought a standard ticket for a teatime session (4-8pm) because I was and still am on a student budget.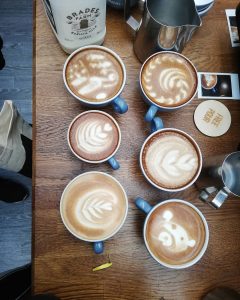 The Latte Art was mesmerising. We were able to watch baristas create their signature masterpieces live. It was so soothing and calming to witness how each barista started with one drop of milk and gradually created a piece of art.
Many reusable coffee cups manufacturers were at the festival showing off their beautiful and practical designs. The majority of them were selling their products at a discounted rate. I bought my precious coffee cup which I still have and use every day.

I tasted so many coffee samples and coffee-related products; coffee pastes, coffee cakes, coffee ice cream and espresso martinis. They were all free and we could purchase any of them if we liked what we tasted. There was a doughnut wall from which you could just grab a doughnut and eat it. I had more doughnuts than I am willing to admit.
Alongside the cosy atmosphere and the glorious coffee, there was live music in the background throughout the whole session. There was a free photo booth with cute probs but the photos we took are far too embarrassing to be posted on here.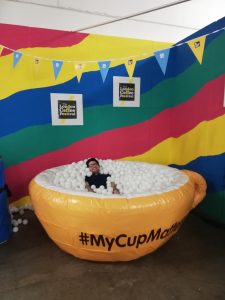 One of the coolest things at the LFC was the huge ball pit in the shape of a coffee mug. I spent the last 30 minutes in there and it was a nice end to the day. 
It was a truly unique experience and I am glad I went. If you love coffee or are looking for a cool way to spend your day in London, I would really recommend going this year :).