Looking back on my time at Imperial
As my final year exams commence, the end of my time as a student here at Imperial is fast approaching. Three of the best years of my life have flown by and I couldn't be sadder to be leaving. Don't get me wrong, Imperial has had its downs as well, challenging exams and plenty of coursework, but there have been way more ups, which have kept me going.
Imperial has so many great things about it. I could sit here and tell you all about the amazing research that's going on with Covid-19, I could tell you about the incredible moment that the Imperial team won this year's University Challenge and a million other reason that we're so proud to be a part of Imperial. But, you probably know all of this already, so instead I'm going to tell you about why it's so great being a student here, and some of the brilliant things that have saved me in these past three years.
Clubs and Societies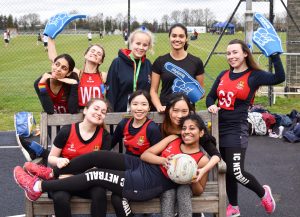 If you've read any of my previous posts, then you'll know that I'm really into the whole clubs and societies thing. In the last three years I've been involved in sooooo much stuff, from Imperial College Union Netball Club to MathSoc and so much else. In second year I was lucky enough to a social events officer for MathSoc. This basically meant organising a bunch of fun stuff for Math students. (Yes Maths students have fun too…) I got to organise all kinds of things, bowling, ice skating, quiz nights, even pulled out the first ever End of Year Ball that saw lecturers dancing till the early hours of the morning! Definitely a night I will always remember, (most of it anyway lol). This year I've got to continue that work as the President of MathSoc. This has given me a fantastic opportunity to continue to help MathSoc grow, a chance to give back to my community and I would have to say that being in various committee roles has been the absolute best time of my life.
The sheer variety of clubs and societies at Imperial means there's something for everyone, from baking to cross country, and everything in between. Check out the full list here.
Top tip: University life is only ever as good as what you put in. Grab every opportunity you get! Join that club, run for that committee position. It really is the most fun.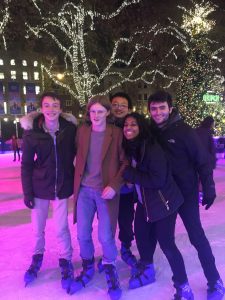 Living in London
Not only does Imperial have a great campus, but its location is absolutely perfect. 5 minutes from Hyde Park, 5 minutes from the cultural hub of South Kensington. We have three of the best museums in London on our doorstep, The Natural History Museum, The Science Museum and The V&A. We're also just a short bus/tube ride from central London. It's such a vibrant city, and there's always so much going on. From musicals, to walks along the river, Christmas markets and a whole heap more. It's a city you can never get bored of and I feel so lucky to have lived here.
Top tip: Don't just say you'll check out London next week, and then spend another day in bed. Because trust me, you're missing out on so much! In first year I was lucky enough to live in Beit Hall, right on campus, but I definitely don't think I made the most of this prime location.
The MLC – study spaces
My personal choice of study space is the Maths Learning Centre, a room deep inside the maths building filled with computers, desks and group study areas. There's even a little sofa area to take well deserved breaks at. I spend hours on campus studying each week, and like most of my friends, I have my favourite spot. Somewhere I can work on my own, or with friends. For me that's the MLC but for others it's the Library which is open 24/7 (minus a tiny bit of a Friday night when you probably shouldn't be studying anyway!) or the other study rooms dotted around campus in departments.
Top tip: Have separate areas for work and play, just so that your brain doesn't get confused!
Food – on campus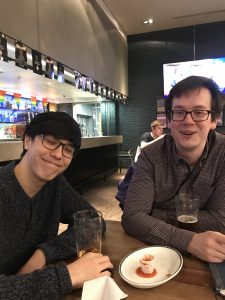 There are countless food options on campus and you can use your ID card at all of them to get a student discount, this makes lunches much more affordable. You have the Library Cafe, which is open late at night to satisfy all of your study cravings serving both hot and cold food. One of the more tasty options is Kimiko, Japanese eatery keeping Imperial students well fed with Katsu Curry and the likes each day. Lots of departments have their own cafes serving sandwiches, fruit and coffee. There's also Fusion which has a range of international hot meals, the deli for fresh custom sandwiches and jacket potatoes, a vegan place, and the QTR for a variety of hot food including wok, soup and dessert stations.
There's also the Union if you're feeling like some curly fries and also Eastside Bar which specialising in pizza, both are just across the road from main campus.
Top tip: Whilst grabbing lunch on campus is extremely convenient and delicious, it can add up quickly. I would recommend trying to make packed lunches most days of the week, and saving buying food on campus for special treats. (This is obviously easier said than done!)
Support – Pastoral and Otherwise
With demanding degrees, pastoral support is incredibly vital. This mainly comes in the form of perusal tutors. During my time at Imperial I've had two of the best tutors known. They have supported me on academic issues, any difficulties I've had including struggling with my degree in second year and also have made sure I feel supported in making big decisions such as module choices. My personal tutor is my go to person when I have any problems and I have really appreciated the support I have received from her.
The are so many other sources of support at Imperial like the Student Hub, Disability Advisory Service, International Students Centre and the Careers Service. Each does an incredible job of supporting students.
Top tip: Whilst at Imperial these services can support you endlessly, make sure you make the most of them, in order to maximise what you get from your degree.
Being a part of a community
I started this post by talking about how proud I am to be studying at Imperial, and I genuinely am and I've enjoyed giving back to the Imperial community through various committee positions. But honestly the best part of my time here has been meeting some incredible people. Whether they are lecturers or those I am lucky enough to call friends now, everyone I have met along the way has shaped my time here immensely. I would say that I'm sad to leave the Imperial community next year, but I already know that the Imperial community stretches way beyond your few short years here. Once at Imperial, always a part of #OurImperial and that's just something really special to be a part of.