Pre-coronavirus, I generally enjoyed cooking every night as a way to destress (and save money). Then, during the "spring break" portion of the lockdown when time was at its most unreal and grocery store shelves at their emptiest, I lost interest. Meals during this time tended towards digestive biscuits, large quantities of oatmeal, and raw carrots eaten despondently at my desk. But now that summer term has picked up, I've gone back to cooking as a welcome distraction from everything. I find it a bit more of a challenge now that I only buy groceries once a week since I like to make whatever I'm feeling at the time instead of planning meals in advance, but I'm making it work. Frozen veggies and lemon juice are great friends to have. 
Which brings me to the point of this post: a cooking diary, as suggested by one of my classmates (thank you, Anya!). Disclaimer: I don't use measurements and have neither the lighting, camera, nor energy to take Instagram–worthy food photos. Oh, and everything's vegetarian! 
Caul
iflower cu
rry/soup
Fresh ingredients: onions, ginger, potatoes, carrots, kale

 

Frozen ingredients: cauliflower

 

Pantry staples: lentils, coconut milk, lemon juice, seasoning

 
You really can't go wrong with a big pot of soup, particularly when you have vegetables you're trying to use up (carrots and kale in my case). I sautéed the onions, ginger, and cauliflower in a pot for a few minutes until a little brown. Then added some water, along with the lentils, potatoes, and carrots. I let that simmer until the lentils and vegetables were soft, then added tomato paste, coconut milk, and handfuls of kale. Let that simmer a little longer before adding in curry powder, salt, pepper, chili flakes, and lemon juice.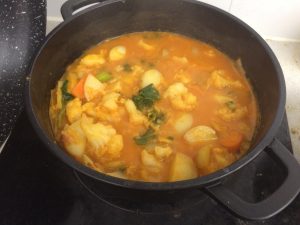 Pasta
with cauliflower
Fresh ingredients: onions

 

Frozen ingredients: cauliflower

 

Pantry staples: pasta, 

olive oil,

 sundried tomatoes,

 

garlic powder, seasoning

 
Less effort for this one; I sautéed more of my onions and frozen cauliflower while boiling pasta. Then combined everything with a little olive oil and some sundried tomatoes, along with my usual additions of garlic powder, salt, pepper, and chili flakes.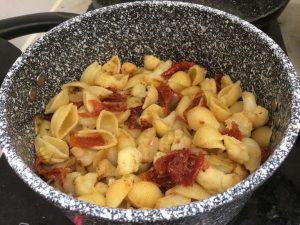 Vegetables and couscous
Fresh ingredients: onions, sweet potatoes

 

Frozen ingredients: cauliflower, peas

 

Pantry staples: couscous, lemon juice, seasoning

 
Still making use of that cauliflower (it was a huge bag and we wanted to use the freezer space for ice cream, so the pressure was on). Once again, I sautéed it with some onion. This time I added sweet potato and frozen peas and ate it with couscous.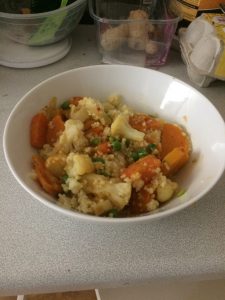 Couscous 
fry up?
Fresh ingredients: onions, potatoes, eggs

 

Frozen ingredients: peas

 

Pantry staples: couscous (leftover)

, seasoning

 
I was in the mood for some breakfast for dinner so was planning to just fry up some eggs, potatoes, onions, but then I remembered I had leftover couscous and should probably throw in something green so...I fried the potatoes and onions, then mixed in leftover couscous and frozen peas. As that was cooking, I whisked two eggs and threw that in on the side to cook at the same time, omelet style. Then I chopped up the omelet with the spatula and mixed up the pieces with the couscous and veggies, sort of like fried rice.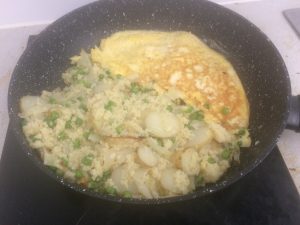 And that's been lockdown cooking—tune in again for more similar-looking photos and ways to eat cauliflower!