or not…? Three years on
Imperial is challenging. Every Imperial student can tell you that. But some people REALLY struggle with their degrees. I am one of those people. Imperial was not what I expected and I have had a love-hate relationship with this degree. Before I leave Imperial, I want to share my up and down journey during the course of this degree because it really hasn't been perfect, but I have almost made it and I know you will too.
Pre-Imperial
I really loved maths. There is no other way to describe it. Between my four A-Levels in Maths, Further Maths, Physics and Chemistry, I spent over 70% of my time doing maths or calculations of some kind. I was obsessed and I couldn't have imagined studying anything else at university. I'm sure many people can relate when I say that at school your identity is very much what you're good at. I was just the Maths girl. It was an identity I had held for years and I hadn't really thought much about what would happen when I was surrounded by 240 other "Maths kids". At school I was used to having an identity, being an individual surrounded by people who were completely different to me. I was confident and I spoke up at every chance I got. But then things changed.
First Year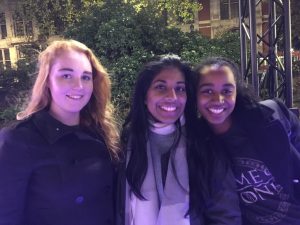 Day 1 at Imperial was crazy and it feels like a lifetime ago. Walking into the Clore lecture theatre I gravitated towards the first girl I could see, Jasmin, shortly followed by Lizzie joining us. Little did I know that these two girls would become some of my best friends and we would be stuck together for another three years.
My first few mathematical lectures at Imperial were intense. It seemed like a big step up from school Maths. It was like opening up a different language. This is something my teachers had tried to convey to me, but I had quite realised what it meant. I suddenly had a bunch of new courses I wasn't sure if I liked, like Analysis and Group theory. I even found mechanics awful, despite having really enjoyed it at school.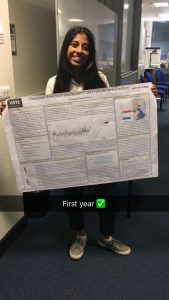 Maths became really hard. I found myself growing more and more detached from it struggling to have any motivation to complete problem sheets or revise for weekly tests. I no longer had the infinitely strong support base I was so used to having at school. I was so used to being good at Maths, that I had really never experienced what it was like to struggle. Instead of doing the sensible thing and asking for help, I locked myself away believing I was the the only one struggling this much. The Maths department has many places to ask for help, problems classes, office hours, friends, academic and peer tutorials. Yet I used none of these. I lost a lot of confidence and became a lot more reserved. (and everyone who knows me knows that I am not a quiet type of person)
I somehow clawed my way through first year exams with the support of a few friends who realised I just needed a little nudge. But my relationship with maths was definitely on the down and I didn't know how I could survive another two years of this.
Second Year
Second year was no better really. If anything it was worse. I was having to take more advanced courses in the same topics I had struggled with in First Year. I was now having to battle Analysis II, Differential equations and Algebra II when I had barely pulled through easier versions of these modules. In order to cope with the difficult work situation, I found myself turning to clubs and societies to keep myself happy. I probably took this a little tor far, engaging a bit too much and compromising my degree a little bit. But it was the saving grace that got me through my second year so I'm not sure if I would've made it without them.
Come second year exams, I had really lost all sense of passion for Maths. It was like counting down because I knew there was no point giving up now. I scraped through those exams by the skin of my teeth, I am less than proud to admit. But the important thing is that I made it.
Third Year
Of course this story has a happier ending, you didn't think I would just leave you with some depressing message right! Third Year in the Maths Department means that you can choose your modules entirely. After two years of compulsory modules I was sooo excited! I took a steady list of Stats modules with some extra fun ones too. If you've read my Her Story feature then you'll know that I have a passion for Statistics, more so than Maths! Between my statistics modules I fit in some Data science and even a teaching module, which I am currently writing up. (More to come on this soon!)
Things started looking a little brighter. I actually enjoyed my modules, they might have required more work, but the work was manageable and I finally understood things! It had been a long time since I had the feeling of keeping up with modules. After some positive coursework marks, I started getting my enjoyment back a little and confidence levels rose a little bit.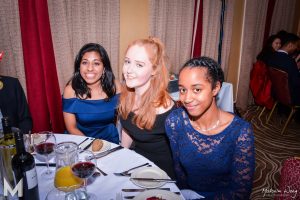 This year I have the incredible opportunity to actually do some project work. From analysing the differences in ingredients of various curries in Statistical Learning, to getting a great introduction to Machine Learning and Statistical Modelling with projects on the effects of drinking coffee on heart rates and analysis clothing catalogues. The opportunities and hands on learning approaches Imperial adopts has highly benefitted my peers and I. I have fallen back in love with Maths and I couldn't be happier.
The moral of the story
The going will get tough at some point in your life. But the important thing here is to persevere. Keep at it. If you really love something, you will fall back in love with it, no matter how much you hate it in the moment. Just keep trying because now that I've made it through, I couldn't be prouder of myself. I might be a little battered and bruised, but it's been a wonderful journey through which I have learnt so much.
To anyone who feels like they need to seek support through a tough time, I highly recommend it, I wouldnt' have made it here without the amazon support I have had. Speak to your personal tutor, senior tutor, the college counselling service or your GP amongst others.
The end of your time at Imperial will no doubt be amazing, but you've got to enjoy the journey too in order to have a perfect ending.
Best wishes,
Aishy