The Bioengineering COVID-19 awards were developed to recognise the extraordinary efforts of students and staff in the Bioengineering department in the context of COVID-19.
Staff in the department were invited to nominate their colleagues and students for a Bioengineering Thank You Award. In their nomination, staff members had to state why they felt the work and actions of their nominee were so exceptional. These reasons could be: delivering critical departmental services despite challenging circumstances, working additional hours to ensure new processes were delivered, being involved in activities outside their role to support staff or students, or contributing to College and national COVID-19 related efforts.
I interviewed De-Shaine Murray, a PhD student in the Boutelle Lab who was nominated for a Thank You award due to his work in founding the Imperial College London Black Doctoral Network. We discuss what inspired him to start up the network and what he hopes the network will achieve.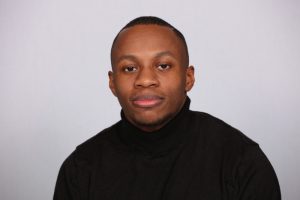 Kemi: How do you feel about being given a COVID-19 Thank You award?
De-Shaine: I am very honoured and it came as a big surprise. I was so caught up in the work I was doing that I actually didn't initially see that I had received the award until receiving the email about this article. I looked back and then saw the award, which I am pretty embarrassed about. That in itself pretty much sums up how turbulent this period has been, but to be recognised for my work really does mean a lot.
Kemi: How was adjusting to our "new normal" and juggling working from home during lockdown, especially during the Black Lives Matter protests sparked by the murders of George Floyd and Breonna Taylor?
De-Shaine: To be honest, describing my adjustment to this period as hard would be an understatement. I actually came straight back from a conference and visiting family in Chicago and Toronto respectively and lockdown happened about 10 days later. Going from the complete freedom of a holiday to being in lockdown with my parents (when I am used to living away from home) was very strange. Unfortunately, this got more difficult upon losing a family member to COVID-19 and being caught up in a wider discussion of racial disparities in April that led to a BBC article, news appearance and a BBC WM interview. https://www.bbc.co.uk/news/health-52338101
Soon after, the Ahmaud Arbery video was posted on social media which I saw and really rocked me to my core as we are the same age. Around the same time, the full details of what happened to Breonna Taylor emerged and seeing the disregard in dispensing justice for her brutal murder sickens me. Being shot in your own bed by people who are supposed to protect and serve says a lot about the lack of value placed on Black lives. By the time we got to George Floyd's murder, it was a bit of an overload. I still haven't watched the full video and I refuse to because Black death is normalised, I have seen enough from Philando Castile to Eric Garner, Tamir Rice and Sandra Bland, even whilst I write this another unarmed Black person was shot in Kenosha, Wisconsin with his back to police officers.
These events are terrifying but not isolated, COVID-19 just stopped the world for long enough for everybody to see what was happening. The adjacent protests in the UK, France, Germany, Canada, Australia, Belgium, Brazil and so on, speak to the fact that anti-blackness is global. Many countries amassed large sums of wealth over treating Black people as commodities and after the abolition of slavery and continued colonialism, those inequalities were perpetuated systemically, such that we live in a structure that actively discriminates against Black people. With George Floyd, we saw the worst of physical, overt racism but the lives of Black people, my own included are filled with constant reminders that many do not value our humanity and this period has brought many difficult moments from my past back to the forefront. In this country I am 9x more likely to be stopped and searched, less likely to receive a first or 2:1 via the awarding gap, Black women are 5x more likely to die in childbirth, Black people are 4x more likely to be sectioned and this is before talking about my personal experiences of racism, threats to my life and the precautions I take on a daily basis to avoid becoming another statistic.
Therefore, doing work in a highly experimental project that I undertake at both Imperial and Cambridge facilities became next to impossible under this backdrop. That was really difficult for me, so I put my energy into other things, whilst trying to do as much as I could on my own work during this climate.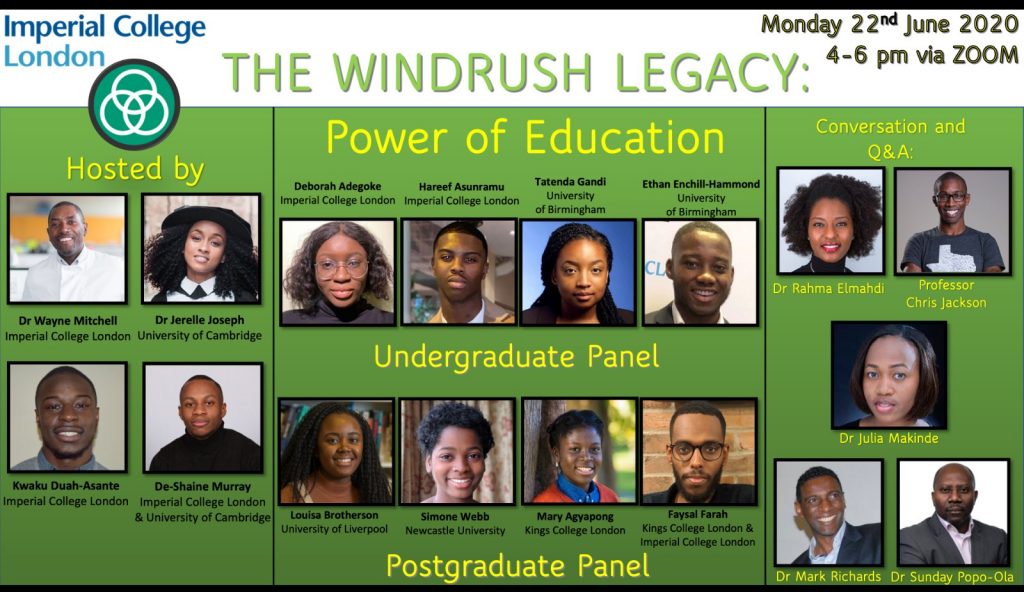 Kemi: What inspired you to set up the Imperial Black PhD and Early Career Researcher Network and how did you go about doing this?
De-Shaine: The Imperial Black PhD and Early Career Researcher Network was birthed out of a few suggestions. After receiving a very detailed and thoughtful email from Prof Anthony Bull, I thought I would reply with a few places where I felt instant direct action could be implemented. PhD studies can be very isolating by nature but when coupling this with being a Black person in the academy, it can be a very tortuous path. I myself am the only Black person who has been admitted into my Centre for Doctoral Training since its existence and know first-hand how few of us are actually at PhD level and beyond whether here or in other institutions. This is a national problem (and international).
So my ideas included counselling for Black students, many of whom (myself included) would have been disproportionately affected by COVID-19 – another symptom of structural racism as per the PHE report but also putting a structure in place to actively support PhD and Post-doctoral members of Imperial who fall beyond the scope of undergraduate societies and are not fully recognised as staff. I didn't expect these suggestions to get escalated in the way that they were but would like to thank Prof Anthony Bull and Dr Nick Linton for doing so and from that the network was born.
I must caveat this with the fact that I have set up networks like this in the past. I am a co-founder of the African-Caribbean Research Collective which provides a safe space and community for PhD students of Caribbean descent across the country. We have since started up a West-African and East-African community all under the same banner with the view of having a national Black Research Collective of similarly aged and staged students who will support each other through the broken pipeline outlined in many higher education reports, including from Leading Routes https://leadingroutes.org/mdocs-posts/the-broken-pipeline-barriers-to-black-students-accessing-research-council-funding.
We do this work without institutional support, often at a great personal cost but I hope that this will soon change and I believe the Imperial Black PhD and Early Career Researcher Network can be a beacon to other universities and Imperial itself on how to properly support Black students in their institutions. This is however only a piece of the wider, more holistic puzzle.
Kemi: What are your hopes for the Network and for Black people at Imperial?
De-Shaine: I would love the network to firstly be empowering for all involved. At its core, it will be social and give its members a chance to speak honestly, be themselves, develop friendships and see positive, visible role models to aspire to emulate and surpass. Many of us within the network are the "only" Black students in our departments, who have never been taught by Black faculty. That is very disheartening and seeing that every day, especially in a multicultural city like London where our institution does not reflect our surroundings is saddening. This network is being designed to counteract those feelings, to build a sense of belonging among Black PGR members of Imperial and provide them with the support to excel. I would hope to see this space develop into a hub for both personal and professional development, a place where concerns can be addressed and dealt with, collaboration could be fostered but also providing a clear route for masters students and undergraduate students, such that our Black students that are already at Imperial, feel that they can be retained and progress and realise their own potential in academia.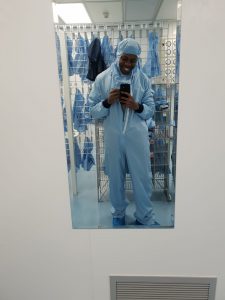 Kemi: You were part of the team that set up #BlackInNeuro, a network created to highlight Black Excellence in neuro-related fields. Did the success of the #BlackInNeuroWeek campaign surprise you?
De-Shaine: To a certain extent yes, I knew we were developing something amazing when organising it but seeing the reach, the media coverage from Forbes to USA Today, the twitter impressions which were ridiculous (over 3 million on the first day) confirmed just how powerful what we had put together was. The fact that BlackInNeuro came together in less than a month, organised a highly successful week and has already been able to put the structure in place to have a lasting future and legacy (watch this space) is testament to the fact of what can be achieved when Black students (and amazing allies) don't have to worry about code-switching, imposter syndrome, racism, bias and fitting into constraints of the academy. We all respected each other from day 1, got on with the work and the vision we have and we have already had a global impact. I think we have set a precedent and shown many institutions how to engage properly in widening participation without being tokenistic, lethargic, performative and condescending.
Kemi: What or who was inspiring your hard work and kept you going during the lockdown?
De-Shaine: It has to be my family. I owe a lot of things to my parents, my sister, my grandparents and wider extended family. I have an amazing support structure from them and my church, that keeps me grounded, reminds me of the bigger picture and helps me make sense of the world around me. Knowing their stories and the sacrifices, hardship and fight to create a better life for myself is what spurs me on and keeps me going. I think being of Jamaican descent and seeing the negativity associated with the Windrush generation which gave so much to this country was another fuel to the fire. I was doing a lot of this work before but the current social climate really drilled home the importance of continuing to push for equity, equality and driving forward meaningful change.
Kemi: What are you most looking forward to once things return to "normal"?
De-Shaine: To be honest, it will be spending more time with my friends and family both at home and abroad. I love interacting with people and that is probably what I miss the most. Zoom calls are convenient but they are definitely no substitute for the real thing. So, it definitely has to be that consistent, in-person interaction which is currently missing/highly reduced. I don't think many of us will take our nearest and dearest for granted after this period and I definitely fall into that category.