From the 27th of June to the 2nd of July, a magnificent symphony of creativity, innovation, and sheer brilliance unfolded at Imperial College London's main entrance. The occasion? The Summer Show 2023, where the talented minds of Innovation Design Engineering and Global Innovation Design Masters students showcased their final projects to the world.
The diversity of projects on display was nothing short of astonishing. Each exhibit was a testament to six months of relentless dedication, unwavering passion, and a drive to create positive change. These projects went beyond the conventional and ventured into uncharted territories, addressing challenges and opportunities that spanned a wide spectrum.
Project "Kuyil" explored the use of sound to convey information to help a 2-wheel rider understand the changes in environment & reduce the dependency on our eyes. Reach out if your interested to know more!
TOAD is a bi-lateral wearable device designed for amateur swimmers and water polo athletes suffering from shoulder injuries.
Mechamorphis explores the concept of 'augmented makers' – reimagining digital fabrication technologies (technologies that control tools through computers) to augment, rather than replace, human making abilities.
Squishifier is a creative platform for inflatable prototyping. The platform allows creatives to turn their 3D printers into prototyping tools for creating inflatables by sealing together, piercing and cutting through multiple layers of recyclable plastic sheets, such as food packaging materials.
Flow State exploring easier biomaterial 3D printing with vibration-based liquefaction.
CarveRL applies reinforcement learning to increase serendipity in fabrication. It ntegrates serendipitous accidents into small-scale manufacturing for designer makers to elevate the value of craftsmanship in computer-controlled processes.
These are just a few glimpses into the array of innovative projects that graced the show. Themes ranged from climate crisis response and healthcare design to inclusive design, haptic interfaces, and AI-driven feedback systems. The projects didn't just represent design and engineering excellence; they embodied a fervent commitment to shaping a better world.
But the Summer Show was more than just a display of projects; it was an immersive experience. Visitors had the chance to interact with interactive prototypes, chat directly with the graduating students, and gain an authentic understanding of the potential behind each innovation.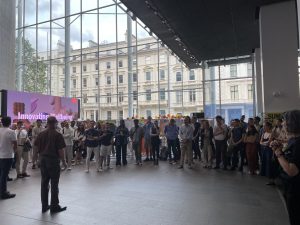 As the curtains fell on this extraordinary event, we extend our gratitude to everyone who contributed, visited, and supported the Summer Show 2023. This gathering of minds and ideas has sown seeds of inspiration that will undoubtedly blossom into impactful solutions in the future. Year after year, the anticipation builds as people from all walks of life eagerly await this showcase of creativity and ingenuity.
To explore all the projects showcased at our Summer Show, take a closer look at IDE and GID's Instagram that feature all exceptional student projects; @idecourse and @gid.london.