Dr Luke McCrone and Dr Mike Streule
This blog reports on two 'transitional space' redesign projects recently published in a research article in the International Journal for Students as Partners. Both projects concerned spaces in the Blackett Building of Imperial's South Kensington campus and help to demonstrate the power of a research-based, student-centred approach to education-space redesign. The first pilot project was completed just prior to COVID-19 and the second project carried out during the pandemic.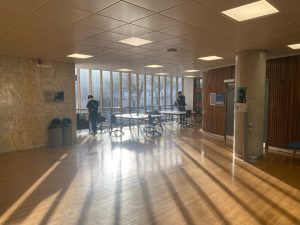 With the recent refresh of Imperial's Learning and Teaching strategy, these projects bring together many of the exciting aspects of educational innovation which we are seeing develop at Imperial. 'Transitional space' is a research-based concept which developed out of Luke's CHERS PhD project. The student-centred approach taken in both projects was carried out under the StudentShapers scheme, in which student partners engaged in a partnership with academic and operational staff members with different skillsets and expertise.
Projects aims
Both projects aimed to achieve the following aims:
To identify under-utilised spaces in different departmental buildings which have potential to support collaboration and transition between adjacent learning spaces like lecture theatres
To redesign and refurbish these under-utilised spaces (such as via low-cost addition of furniture) to create better hubs for collaboration and interaction among students and staff
To empower the partners with experience of using these spaces to employ their own user perspective, and that of their peers and teachers, to achieve this redesign most effectively
To increase the sense of ownership, identity and belonging within these departmental spaces.
Assembling the design team
The following members were key to the success of both projects:
Student partners – in the pilot project, this was a final year undergraduate student and in the main project, three student partners representing both the undergraduate and postgraduate community
'Translational designer' – as a doctoral researcher who studied transitional spaces, I evaluated the pilot foyer space in my PhD and used knowledge of the learning space literature to guide the philosophy of the educational design. Having someone who can bridge the gap between the research world and operation world was pivotal
Academic staff member – who considered the staff requirements and potential academic use of the spaces, including for example the introduction of suitable writing surfaces
Department operations manager – who considered the non-academic requirements of the space among a broader suite of infrastructure improvements in the department
Estates team member – to ensure institutional commitment to the project, including financially, and to ensure the space conformed to safety regulations.
Why partner with students?
Changes made to campus spaces have traditionally been managed and overseen by estates and professional architects, often with limited consultation of student and staff users. However, these consultative approaches, often carried out superficially at the level of stakeholder meetings, fail to illicit the very specific contextual knowledge which students and teachers develop from using these spaces. Furthermore, they fail to provide these users with the right tools and means to meaningfully shape the design up until the point of implementation, at which point designs can be derailed by competing demands and operational pressures. By equipping partners with the right tools and agency over the full duration of the project, it is evident that students are highly creative, practical and reasonable with designs.
Why transitional spaces?
Whilst students can just as productively contribute to the design of teacher-controlled, formal learning spaces like classrooms, they are arguably best placed to design informal learning spaces where they have more agency as users. Transitional education spaces outside of lecture theatres are unique congregation points where student cohorts gather before and after timetabled teaching. They are areas which not only have potential to better support transitions into and out of timetabled teaching, but when properly designed and equipped, can help to address the longstanding poor NSS student satisfaction related to lack of quality study space in departments. Transitional spaces are shared spaces in which both staff and students can act on a freedom less afforded by adjacent classrooms; they are increasingly valuable with the adoption of hybrid learning.
Looking forward
These two projects are among several transitional space redesign projects which have occurred across different Imperial College departments. At this point, we might reflect and consider the following questions:
How can we further refine this research-based, student-centred approach to education space (re)design?
How might we broaden this partnership approach to redesign other areas of institutional educational infrastructure?
For a truly institutional approach to student partnership, in what other areas of institutional activity could we adopt a more authentic partnership approach (beyond the delivery of educational content) which is still highly impactful on the student experience?
How might we broaden the notion of 'partnership' to involve networks outside of Imperial, including our alumni?
We encourage you to read and share your thoughts on our full journal article. Additionally, please get in touch via studentshapers@imperial.ac.uk.