It was Oct.5.2021, my 12th day at London. The view of the street from my window was starting to look too familiar as I sat down with my morning coffee made with the right bitterness. Like every other morning, I have woken up at 8:00 a.m. with precision on the first ring of my alarm. I also fixed myself a bagel with cream cheese, but without an oven it tasted cold and bland. After the coffee had somewhat provided me with energy, I started watching my lectures for the day. So far, everything seemed repetitive – but it wouldn't be.
Today marks the day I go on campus for the first time in person; an equivalent of the first step on the moon in my universe. Failing to settle my excitement, I headed out from my hall with my brother's company at 10:00 a.m., and we have only reached the campus at 11:20 a.m. The campus, just like I have always imagined, was filled with life and joy. Boys were fist bumping and girls were hugging each other. Clearly, everyone was excited to finally see each other in person after the pandemic. This same energy also radiated when my brother got to meet his friends, and this group of nice people gave me a thorough tour around the campus.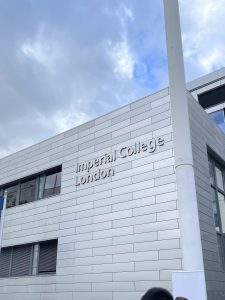 I have chosen the right day to come to campus and landed right in the middle of the Welcome Fair. Stalls of different societies were set up in every space possible so eager to present themselves. I had the chance to stumble upon a society I was interested in joining, namely the 'Live Music' society. I was especially attracted to one of their events called 'Random Band Night', where people with different specialties of instruments are grouped together on the spot to put together a performance. "Of course it will be pretty bad, but the point is to enjoy the process" was what he said and was when I got hooked by the society's energy. Apart from that, I am also looking to join the Taiwanese Society to get to know people from my country.
The society exhibition was just a pleasant surprise apart from my real goal of coming to campus. I was here for a catch-up lab session organized by my department. The session was three hours long and we were introduced to the most basic equipment provided to us by the labs here. I saw this as a good chance to get comfortable with the lab environment here as it is quite different from the lab I have worked at in Taiwan. For the obvious difference, the labs here are GIGANTIC!!! Back in Taiwan, the bench we had were only big enough to accommodate two people, and everything was jammed in that space. Here in Imperial, the labs provided for undergraduates to learn are unimaginably big.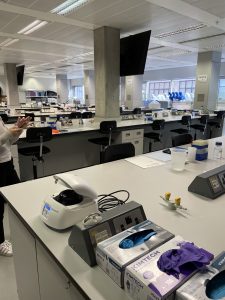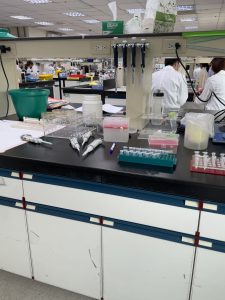 (Top: Imperial College London, Bottom: National Taiwan University)
After the session was done (which was very tedious for that we did ELISA on our first in-person lab session!), I got a text from my brother. It was an address, and he told me to key it into Google map and find my own way there. It was 5 p.m. and I was starting to get hungry. I did as told, and set out on a 20 minutes walk to a friend's rented house. The house was a basement house with three rooms: a bedroom, living room, and a bathroom just spacious enough to make cleaning a tiny bit more difficult. As I arrived, I found them by the kitchen (located on the side of the living room) preparing a whole chicken and potatoes for a 'Sunday Roast' on a Tuesday night. I was never aware of the idea of a 'Sunday Roast' until that day, and I have to say it was very delicious. My brother and I had planned to make this back at home in Taiwan to share with everyone.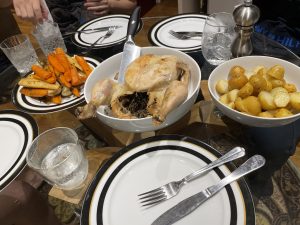 My brother had known these people for quite a long time, and I had only met them today. However, it felt like we've known each other for the same amount of time (partially, I suspect, because my brother shares stuff about me with them too). After a bottle of beer and sharing of personal stories amongst these friends, the clock had struck 8:30 p.m. and it was about time we headed home. On the way back, we opened the health app in our phones and checked the steps we took that day: 14,000 steps! It was a record-breaking numbers of steps and we were both exhausted.
Overall, it was a great day and I finally got my Student ID.