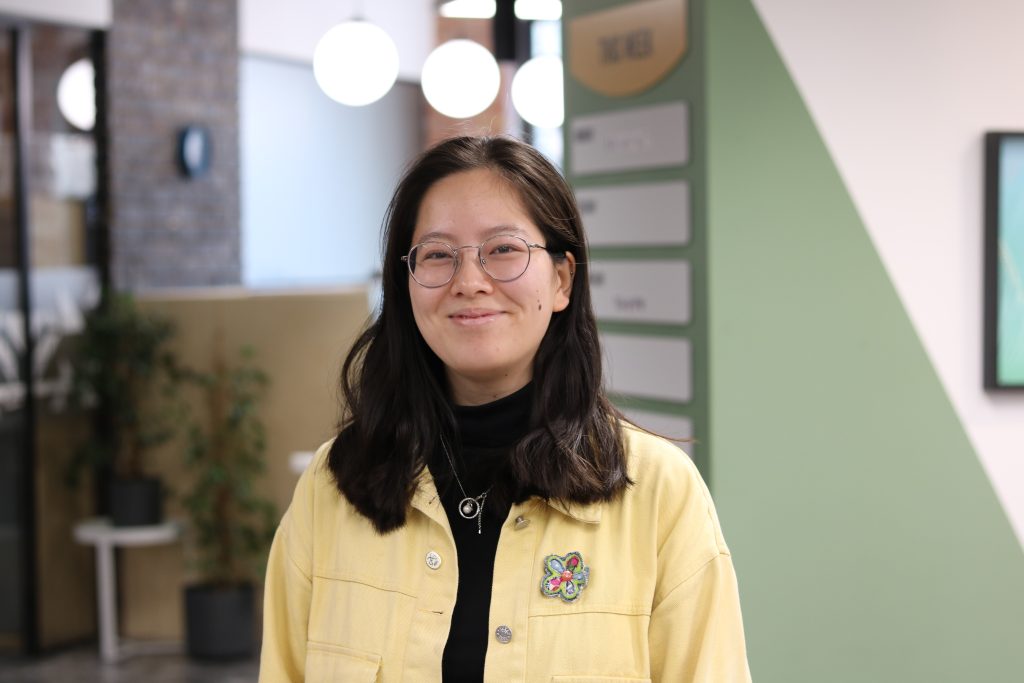 Sophie's UCL thesis involves part-time experience as a Research Intern in the Department of Brain Sciences at Imperial, Division of Neurology. She is currently training to become a Speech and Language Therapist.
Tell me a bit about yourself.
I'm Chinese and grew up a village in North Yorkshire. I also happen to be adopted, if that made the first sentence any clearer! My thesis with UCL currently has me gaining experience as a research intern within the Department of Brain Sciences at Imperial, focusing on data from stroke survivors with speech deficits (a condition known as aphasia). When I'm not there, I'm studying for an MSc in Speech and Language Sciences at UCL hoping to become a speech and language therapist. In my down time, I enjoy painting, going to the cinema, playing piano (and my new obsession, Neko Atsume! )
How did your journey into science look like?
I have to say, it was very unexpected. Whenever someone said "science" or "maths", I'd get a knot in my stomach – I always used to joke that the Asian stereotypes don't apply to me. Growing up, I was an artsy kid, and was always encouraged to explore that side of myself, so science was never really part of the picture. After my A-levels, I joined the University of Arts London for my undergraduate degree to study fine art at Central Saint Martins. But I quickly realised it wasn't for me. So, in my second year, I switched to advertising  at London College of Communication, where I met my best friend and creative partner. He was the copywriter, while I was the art director, and we spent a lot of time job hunting together! Unfortunately for us job hunting was nearly impossible. So I switched to working as a learning support assistant at a primary school — and I loved it! Around that time, I arranged to meet with an old school friend who is a Speech and Language Therapist (SLT); we spoke in my garden, talked SLT things and reminisced about primary school. I warmed to the idea after that chat. Not long after, I searched for MSc programmes, and here I am! My journey into science currently consists of 4-hour neuroanatomy lectures, dense with Latin, and watching YouTube videos of people's throats. And now, Imperial has exposed me to yet more science. I'm talking lab meetings, databases, running analyses, and writing about "cerebrovascular attacks". By the end of the 2023 I will be a certified speech and language therapist! At the same time, I know I couldn't have gotten here if it wasn't for the support from my lovely personal tutors, clinical tutors, tutorial group tutors, practice educators, and my hilariously resilient friends ("saranghae <3").
Below you can find some of the wonderful art that Sophie has been working on recently.
What piece of advice would you give to LGBTQ+ students who are thinking of starting a career in science?
I say do it. If you don't think it's for you, you can try something else. And something else if you don't like that. There are stupid amounts of pressure for young people to start a career. If you're able to, just start somewhere. Maybe that somewhere is science? The field is extremely varied and ground-breaking. In my experience as a speech and language therapy student, science is also a caring and incredibly rewarding vocation. It's not all test tubes and Bunsen burners like at school. But it can be if you want it to be.
Do you think being LGBTQ+ influenced your journey in science and/or the choices you made along the way?
Honestly? I don't knowingly think being LGBTQ+ has influenced my choices into science. But I think it's influenced the people I've bonded with. It's influenced how I interpret advertising briefs. It's influenced how I educate children. It's one of the factors that mould me. It does something to how I work with clients, too. But it's also not the only thing. I'm also East Asian. I'm adopted. I'm Northern and a woman. Intersectionality influenced everything to now. I hope to influence others more than anything. I'm a member of UCL's equality diversity and inclusion advisory group, and I was a driving force behind forming the first anti-racist working group at the primary school I worked at.  These are the choices that I made with the protected characteristics that make me.
What are you hoping to do next?
I want to be a speech and language therapist and I want to connect with others. It doesn't matter if that happens through one session, or six sessions, or by talking to colleagues in the waiting-for-the-microwave queue at lunch. I've made some life-long connections so far and I'd like to keep going. A typical question that speech and language students get asked is "paediatrics or adults?". Right now, I don't know. I don't think you find your job, the job finds you. One day it'll jump out at me, and I'll be telling some student that I've been "at this trust for 10 years now!".  I hope my future is bright and that I can make other people's lives brighter.  Who knows, maybe I'll even dip my toes into research!
If you could go back in time and speak to your younger self, what kind of advice would you give her?
I'd say "creativity extends to science, no seriously, Sophie, it does I promise". I thought I'd do something artistically creative with my life. School grades aside, I was praised for being artistic, musical and sporty. I knew Julliard or the London Olympics weren't for me. So that left art. Institutionally, I was raised by art teachers, artists and creative directors. I was encouraged to talk about my feelings and be charismatic in the hope that someone buys an idea. There's room for both those things in science.
This interview is one of the many initiatives run by the LGBTQ+ Allies Network in the Department of Brain Sciences at Imperial. If you would like to get involved with what we do or just find out more about us, follow this link.