Professor Eric Lim
Professor Eric Lim is a Consultant Thoracic Surgeon pictured here at the Royal Brompton Hospital, showing that turning some lights off can sometimes make a better image.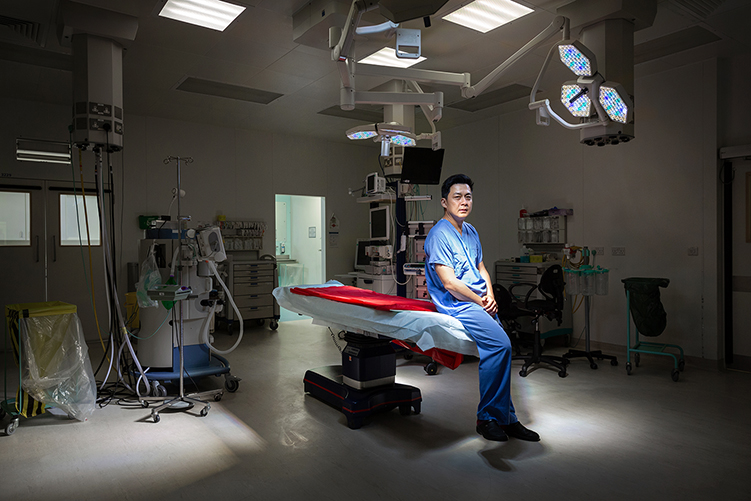 Image © Thomas Angus, Imperial College London 
Being able to walk into an environment and create an image with such interesting lighting with just a camera and the room lights is unusual, an empty operating theatre is a rare luxury.
My only frustration with this image is that I spend my life always removing rubbish bins from the space I'm going to shoot in when I first arrive, and that one on the left that I've missed here really bothers me in the wide image. (once you see it!) Although I suppose it makes for a more genuine image.
Eric was kind enough to also snap a phone pic of me in the space in scrubs and my fashionable green surgeon crocs, this is interesting as it shows how different the room looks with all the lights on, as they were when we walked in.
I much prefer the lighting we used for Eric's photograph with some of them turned off, which provides us with drama and depth.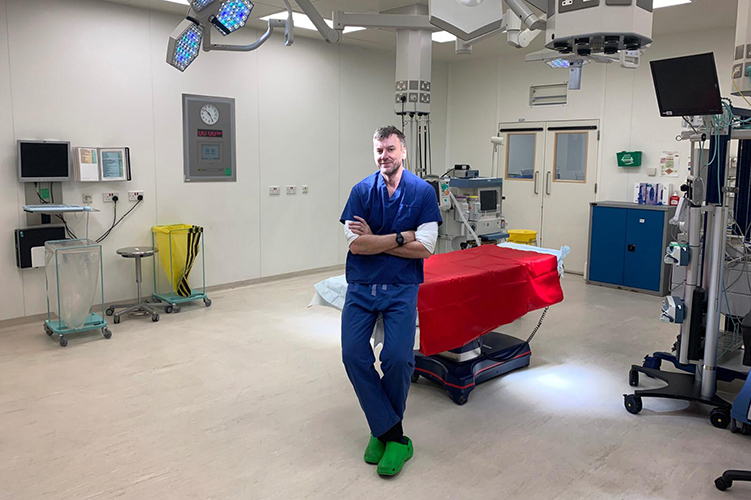 Image © Eric Lim, Imperial College London
Learn more about low light photography:
Watch a video tutorial on low light photography, covering high ISO, wide aperture and colour balance on Lynda.com  (College users have free access to Lynda courses)
Read a short explanation of ISO, aperture and exposure at Canon here.