27th January was the date, Imperial College Union was the stage – for one of the biggest events of the year; the 2018 Imperial vs UCL eSports Varsity. I decided to pop along and see what was going down. Admittedly, I know little/nothing about eSports but luckily there were enough avid fans that explained the rules and procedures that I gained some understanding!
The varsity event was hosted by the Imperial eSports society (https://www.imperialcollegeunion.org/activities/a-to-z/esports), a relatively young society. However, their membership is growing, and so are the size and quality of their events – this was their second ever varsity event and it was an impressively professional set up.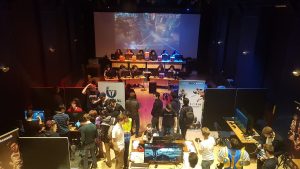 I arrived fresh faced and clueless about both the event and the industry it was promoting. It got me thinking, what are eSports? Well, after some research and questioning I found out that eSports refers to competitive multiplayer video gaming, usually on PCs between professionals. Popular video games include real time strategy, first person shooter and multiplayer online battle arena games. The genre was supposedly first played at Stanford University in 1972 where students competed by playing the game Spacewar. Later, Atari held a large scale eSport competition in 1980 called the Space Invaders Competition. Since these humble beginnings, eSports competitions have become a global phenomenon, amassing both a huge global fan base and prize money.
Chatting with the Imperial eSports society Chair Roy Lee, I learnt that, in his opinion, eSports have gained massive popularity thanks to their ability to provide constant action and audience engagement. Game publishers have sat up and taken notice, promoting to their loyal fanbase and using broadcast media outlets like YouTube and Twitch (a video live-streaming platform) to promote both games and the wider phenomenon of eSports to the masses.
The event itself was very well attended, with all tickets sold out beforehand. Approximately 170 people bought tickets – an impressive number for such a small society! There was a huge range of things to try out; from an HTC Vive VR experience, driving simulator, sponsor stalls and of course both large and small arenas to watch the different eSport competitions happening throughout the day. The schedule was packed – running from 10am all the way to 7.30pm – including Overwatch, League of Legends, Starcraft 2, DOtA 2, FIFA and many others.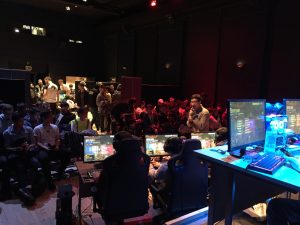 I rocked up right about the time the Overwatch competition was raging. I took my seat in the spectator area of the big arena; there was the typical segregation at a varsity event – UCL on the left and Imperial on the right. There were no mesh fences between us though – this isn't football. In front of me sat a tiered set of computer screens and competitors, their gameplay instantly broadcast onto the big projector behind them for the spectators to enjoy. Within 30 seconds, there was a roar of approval from the Imperial spectators, something good had happened. As I looked at the screen, I realised I had no idea what was going on – where was I supposed to look!? Luckily, I started chatting to some of the other spectators and they helped me understand what was going on. Their enthusiasm was infectious, by the end of the round I found myself joining in with the crowd, still trying frantically to understand what had been achieved, until finally it was all over. Imperial won the Overwatch competition 3-1, leaving triumphant with trophy in hand. Next up: League of Legends.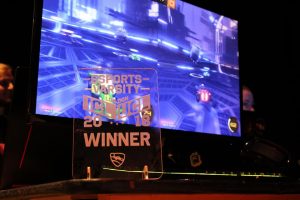 After perusing the other stalls and smaller competitions (Rocket League was one of my favourites) my time was up, I had to go back to the library to study, but there was a spring in my step. The amazing atmosphere and enthusiasm of the eSports varsity had left me buzzing.
Once all the other competitions had been played between Imperial and UCL, it was announced that the overall winner was Imperial, edging out UCL 4-3, taking the trophy for a second year running.
Next year, it will be UCL's turn to host – game on. Will Imperial make it 3 years in a row, or will UCL triumph on home turf? Until then, I'm sure much intense training (and fun) will be had by the Imperial eSports society – be sure to check them out (https://www.imperialcollegeunion.org/activities/a-to-z/esports)!
Thanks for having me and see you next year!