What are the options for mature students in their fifties to stay fit? There are plenty of time, resources and facilities dedicated to help with lectures, tutorials, reading, research, coursework and so on. What about other essential components of daily life: exercise, sport, fitness? Rest assured: it turns out there are also plenty of facilities to help you when you want to do anything other than rest.
I headed over to the Ethos Sports Centre, right next door to the main Imperial site in South Kensington, to check it out. From old-fashioned circuits, currently fashionable yoga, Pilates and Zumba, to rather more esoteric sounding Vinyasa flow yoga or Kondi – Ethos appears to have it all. There are also options listed which wouldn't appear out of place in a zombie movie: body core, body combat, body attack.
So where to start? Being aware that it may be better to take it easy at my age, I opted for something slightly more restrained as a way of dipping my toe into the vast ocean of fitness classes: a lunchtime walk in Hyde park.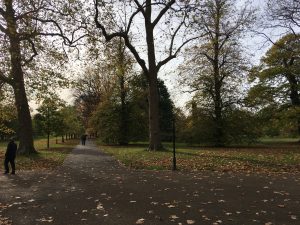 I appear to have survived my first excursion into the dangerous world of later-life student exercise; no heart attack, no sprains, twists or broken bones. It was actually a very pleasant lunchtime walk in the company of Ethos staff and a great way to break up the day, get some fresh air and prepare for another tough afternoon of academic progress. So what next then, I feel it's time to up the ante. So what about joining a sports team?
Again there appears to be no end of choice. If I cast my mind back to the Societies Fair during freshers' week at the beginning of the first term, I seem to recall there were well over a hundred stands on display, many of them advertising different sports. Options range from the rather traditional football, cricket and rugby, to more recent additions to the catalogue like skateboarding and barbell, not forgetting the ultimate opportunity: ultimate Frisbee. So it seems there's something for everyone? But what about newcomers, could I just turn-up and try my hand at something new? I'd always fancied fencing, or gaelic football. Or what about synchronised swimming, or even lacrosse (I've heard that they are an intimate bunch getting up to all sorts of exciting antics)…
So it transpires that I could drop-in for a whole range of taster sessions in different sports and activities, especially back at the start of term. No need to buy all that expensive sub-aqua diving kit yet; try it out in the pool with the club before committing. Sounds great. But with so much choice, how do I decide between fifty shades of sporting pleasure?
In the end I simply stuck to what I already knew best and joined the squash team: