Maths Wins big at Union Awards
Sitting in the study room one Wednesday evening, typing away at my Python code, I was delighted to receive an email saying I was shortlisted for two union awards, the first being the Maths Wellbeing Team shortlisted for Wellbeing Team of the year, and getting shortlisted for Union Colours. Union Colours are awards are given to about 30 students a year who have made large contributions to the union through service to the community. This could be in a society, as a departmental representative or through a project.
The Maths Wellbeing Team
Over the year the Maths Wellbeing Team has done some big things to try and foster a better sense of community within the department whilst representing students' issues and making sure the department makes constant efforts to improve.
Coursework
One of the biggest academic struggles in the Maths department has been through lecturers setting courseworks that take far too long to complete for the amount of marks they are worth. Noting a considerable impact on student wellbeing, the reps took it in hand to try to improve the system. By bringing up specific examples at student staff committee meetings we were able to raise the issue and allowed it to be slowly fixed with better requirements for lecturers to follow.
WellFair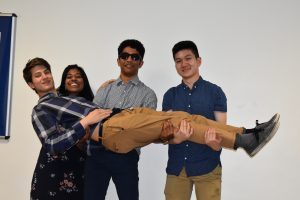 In addition to our biweekly wellbeing events which have included board games sessions, afternoon teas and colouring in sessions, our flagship event this year was the WellFair. This event hosted various stalls from college support services such as Student Hub, student finance and the international team. There was also a games room with a cupcake decorating competition, a skipping competition and countdown style session, promoting the importance of taking regular breaks and getting involved in physical activity.
Microwave
There is one clear item missing from the Maths department and that's a microwave. In the past, Undergrad Maths students have not had access to a microwave due to a lack of safety features. However, this year the wellbeing team has been constantly advocating for a microwave in the Maths Common Room and after months of begging and bringing up the advantages of having one for students, we got one! This has been a massive achievement for us!
Union Awards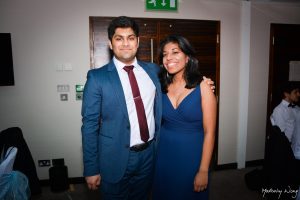 We walked into a transformed Metric, covered with balloons, a doughnut wall and plenty of drinks and food. There was even a Photo Booth! Soon enough the awards were announced, starting with Union Colours, which myself and Hitesh, current MathSoc President, were delighted to receive. Then other awards were announced including academic team awards, awards for events promoting diversity and inclusion and fellowships.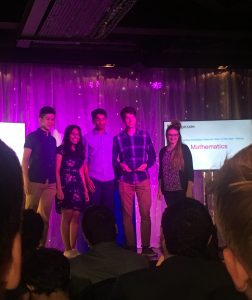 Whilst Becky, current Deputy President Wellbeing, was announcing the award for Wellbeing team of the year, we sat there holding hands hoping that by some chance we had won. And then suddenly she said the words "for their star event WellFair" and that was the moment we realised. As we went up to collect our award it felt like the perfect end to an amazing year for student wellbeing in the Maths department.