Welcome to Imperial!
For all of you freshers settling into life at Imperial, it's a very important and busy few weeks! First of all congratulations on getting here and I hope you have enjoyed your first 24 hours in halls! Starting at Imperial can be a very exciting time, filled with so many different emotions. Fear of the unknown, excitement for the adventures to come and nervousness about meeting so many new people, followed by a touch of homesickness too perhaps. Having been in your shoes two years ago, it's fair to say I know a thing or two about negotiating Freshers week, which I hope to share with you!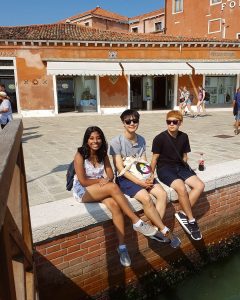 My Top Tips for Negotiating Freshers Week
Talk to People: One of the most daunting things about moving to a new place and a new environment is making new friends. In my experience this in undeniably one of the most important parts of Freshers Week. The only way to make friends is to talk to people, anyone and everyone. This could be in your flat's kitchen, at your first departmental lectures or even at the union after a couple of drinks. Some of the first friends you make in Week 1 can remain your best friends for the rest of your time and Imperial and possibly even the rest of your lives. (My first year neighbour, Sung Soo, is legit still one of my best friends today)
Go Grocery Shopping: There is nothing worse than coming home from a long day of intro lectures to find a fridge emptier than your stomach. Pick up groceries on your way home, or the evening before. Why not pool together with your flatmates to do an online grocery order? But never ever steal someone else's food from the fridge, this is not okay!
Safety in the Kitchen: Don't be the person who sets off the fire alarm! Whether it be 8pm or 3am no one liked to have to trek outside into the cold in their slippers because your microwaving a whole egg ended in sparks! If in doubt ask for help, someone in your kitchen will know what to do. 


Freshers Fair!

Freshers Fair: Make the most of freshers fair, its a chance to take a look at everything that Imperial has to offer. Take a walk around ALL of the stalls, not just the ones you're super keen to see. Sign up to more the. you intend to do as you can always unsubscribe from the 50 extra mailing lists you're on at a later time. I recommend finding 2-3 societies to keep involved in but this is obviously your choice.

Stay Safe when you're out: If you're heading out for the night, make sure you've got people you trust around you. Travel together and try not to lose each other whilst you're there! Remember to keep drinking water and have something to eat before you head out. If you're out late and there's easy night tube/bus route home then get an Uber. It is really not worth the risk of you walking half way across London.

Head out in a group

Dealing with a Hangover: The best cure for a hangover is a nice mug of tea and a sturdy, carb-y breakfast. Keep the fluids flowing and your stomach topped up and no one at your 9am should notice!
Take every opportunity possible: Whether it be applying for year rep, meeting new people, or taking any sort of risk, give it a shot. You never know, it might end up being the best thing that ever happened to you!
So, Good Luck for the week ahead! I hope you loads of fun and get a lot from it before the hard work begins for real!
Aishy 🙂