During the fall term I spent most of my time on campus, even coming in on weekends to use the pool at Ethos and get some work done in the quiet student common room of my department building. But now that the College is closed for the holidays I've been spending a lot more time at home, which for me is a student accommodation in North London. Finding a place to live in London was a big concern for me as an incoming international postgraduate student, as options through Imperial were limited, and I know that many of my fellow students have been in the same boat. So how exactly does one go about finding accommodation in the UK's most populous—and expensive—city? I've included some of my experiences with the housing search process below: 
Student halls vs private landlord
The two general types of off-campus housing available for students are private halls, which have a variety of accommodation types exclusively for students, and private flats, which are rented directly from a landlord. In researching options, I found the biggest difference to be that student halls tend to be more expensive but may have additional amenities, while private flats are more varied. Being the type of person that I am, I made a pros and cons list to help weigh my options. In the end, I went with a student hall. The speed at which the London housing markets moves meant that it would be difficult to find a private flat before arriving and I was reluctant to move internationally without knowing in advance that my housing situation was sorted.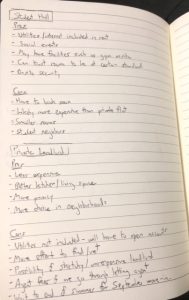 I found it useful to get the pros and cons down on paper
Living with someone else
An additional factor in my housing search was that I had somebody who I wanted to live with: my roommate from New York who was also moving to London for school. We thought it would less expensive to find a flat together. However, this came with its own hurdles. It turns out that it is difficult to find student hall with reasonably-priced 2-bedroom flats; most offer either individual studios or bedrooms within a flat meant for 4-10 students, which did not appeal to us as postgraduates. However, my roommate and I were determined to stick together.  
Neighborhoods
Location is obviously important when choosing where to live. The further out you get from Central London, the more affordable it is; however, the benefits may be offset by the time and cost of commuting. My roommate and I looked at some places which initially seemed great from their website, but additional digging showed them to be far away from the Tube or the bus. We also had the additional challenge of trying to find a place that suited both of our commutes, since our schools were on opposite ends of the city. Other things to consider: the nearness of grocery stores, pharmacies, and other stores that you may need within walking distance. Google Maps is your friend here.  
The verdict
In the end, we found a relatively affordable (£195 pp/pw) 2-bedroom flat in a small student accommodation hall in Zone 2. Overall, I have been very pleased with it. It's admittedly small but as I mentioned up top, I tend to spend a lot of time on campus anyway. Plus, there's a nice little sense of community—the management is even treating students like me who are here for the holidays to Christmas dinner. However, it is important to consider your own situation and needs when searching for housing.   
The kitchen/dining space in my flat: small, but sufficient
Tips:
Start early! Spaces in student halls fill up early. If you're considering one, you should plan in advance

Guarantors: Some halls will allow you to pay rent in installments if you have a British-based guarantor; however, this may be a challenge for international students
Furnishings: Private student halls are 

fairly standard

 in how they are set up, but a private flat may or may not be furnished

.

Viewings

: Personally viewing at a flat in advance may not be possible for international students; however, if the owner does not even agree to a Skype viewing then that's a red flag

 

Contracts

: Some places have specified move-in/move-out dates that you should doublecheck against your program dates

 

Imperial as a resource: Imperial does have some housing information available for postgrads that may be worth checking out