Welcome to Round 2 of the Imperial Survival Challenge! Getting back into the 'zone' after weeks of slacking off and chilling on the couch during Christmas break does take a lot (especially if you forgot how to write over Christmas :))
Start of Autumn Term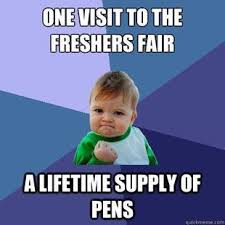 I remembered what the start of the Autumn term looked like. All the "freshers week" events, so-called ice-breakers, socials and "introduction" lectures to the various courses ran through my exhausted mind. The time I got to spend with new faces, exploring the city and attempting to sort out finances (clearly didn't work for the first few weeks, thanks to my amazing cooking skills). More than anything else, it was about getting myself sorted mentally and emotionally (and obviously learning to hate the weather a tad bit less..). This is the period of learning life skills and also having your dose of adventure.
Start of Spring Term
Fast forward a month later. After all the standard protocol of wishing everyone a great new year, the Department of Electrical & Electronic Engineering has its own way of wishing its students. No matter how cool the department name sounds, pretty much love to keep its students on their toes! My Christmas was hijacked by a portfolio deadline during the holidays, and if things couldn't get any worse, within a day or two of returning back from my relaxed holidays in Jakarta (the capital of the country which has Bali!), I confronted my first, formal examination consisting of a 2-hour long Maths exam (what can I more fun than that!). The fun ended with yet another assessment, this time a programming one.
And the final words…
All in all, for most people, it was a reality check of the academic standards and rigor that Imperial expects. Better to have to it now than later, because before I realize, within 3 months, the great grand finale round, i.e the final exams will arrive, ready to challenge my capacity (and ego!)