Disclaimer: Views expressed below are based my own experiences and are not intended to hurt anyone 🙂 
As a traditional Indian living in London and recently moved out of Jakarta (Indonesia), I have thus far been part of three very distinct "worlds". Below is a screenshot of a map showing all the places I've lived in so far. Interestingly, each of the countries I have lived in so far is different and at times 'contradictory' in multiple areas, from dietary habits and lifestyle to societal mindset and their respective systems.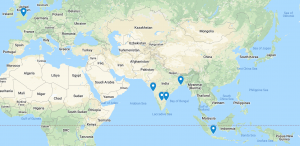 Dietary Habits
India: It goes without saying that given the massive population and size of my country (with over 1.3 billion people who speak over 1000 languages and belong to various religions!), I have been brought up in a land full of diverse, intricate and elaborate cuisine across the various cities I've lived in – Bengaluru, Kolkata, Chennai and Mumbai. I was brought up in a traditional, religious and cultural middle-class Indian household have been a strict vegetarian all my life. So long as I lived in India, there was never a dearth of options for me. I can say that India has practically every kind of diet one can think of.
Indonesia: Yet another massive nation with over 17,500 islands (Bali is just ONE of them!) and a diverse population. Lots of options again, with all kinds of spice tolerance levels. BUT practically everything there was non-vegetarian (people there really gave me strange looks when I said that don't eat meat and seafood which to them was the most basic and fundamental cuisine!) Net result? Practically no influence on my diet despite living 6 years in Indonesia (apparently nasi goreng and 'Indomie' taste really good…)
UK (London to be more precise): My experience thus far in the world's most global and student-friendly city has been pleasantly surprising -one can literally get ANY CUISINE, EXCEPT that it can be rather harsh on your finance, ESPECIALLY if you are an international student. With the naive assumption that you are a master of budgeting, there is a plethora of cuisine and dietary choices throughout the city. In fact, London is where you can find both the most hardcore vegans as well as the most hardcore meat lovers!
Lifestyle
India: Buzzing, positively chaotic, lively and always in a festive mood! Not a single month without a mega-festival, and not a single empty road, including at night in the cities. Whilst the cities do have large malls, bazaars and markets are always crowded and people generally tend to shop a LOT from street vendors and stalls. Very easy to hire/employ someone for all kinds of tasks.
Indonesia: Relatively laid back, relaxed and calmer people. Moving in from India, this was a HUGE change. Long lunch breaks, short working hours and waiting for hours in the lethargic traffic – barely anyone walks to get somewhere! The month of Ramadan is celebrated with great fervour. And yes, the shopping malls are MASSIVE…
UK (London to be more precise): The obvious one – clubbing. This "world" has more clubbing than both the other ones combined! Spoiler: I don't drink :), so clearly I'm far from being the typical British young adult! But that has never stopped me from appreciating other aspects of British culture. A particular highlight is Christmas- which in my opinion is certainly best celebrated amongst the 3 countries. Not to forget the very independent life people lead here. Seriously, I realized that doing your chores on your own is 'normal' only after moving to London because, in both India and Indonesia, most households had a domestic helper, cook and/or driver (luxuries I can only dream of affording in London!).
Societal Mindset/System
India: Historically we have been one of the most compassionate and inclusive civilisation. Not only is India the birthplace of 4 global religions, but it is also welcomed western religions and is proudly the symbol of "unity in diversity" and a shining example of democracy. That in no way hides the fact that there still are massive issues with the mindset of society, and there are huge leaps India needs to take in addressing gender equality, upliftment of the downtrodden and weaker sections of society. Whether for good or bad, Indians are in general very proud of their culture and traditions and hence there are certainly more restrictions when it comes to what is considered "socially acceptable" EVEN if it is permissible by law.
Indonesia: Society as a whole is very welcoming, even to foreigners like me and we are treated with great respect. Mostly everyone is treated with compassion so long as one doesn't offend any aspect of the Islamic faith. Blasphemy is a serious criminal offense and society at large is supportive of punishing those questioning or criticizing their holy books or declares to be an atheist. Also, gender is strictly binary by law and homosexuality is illegal.
UK (London to be more precise): Open and inclusive hands down, even by global standards. Within the few months I've been here, I have seen all kinds of ideologies thriving. Dissent and criticism in forms are given space in this country, especially in London where one has more freedom of expression than the rest of the world. A person regardless of their gender, sexuality, religion, culture and political views can practice their beliefs and choices. I choose not to comment on racism simply because thus far,(touch wood!) fortunately, I feel very welcome at Imperial and in London!