Don't worry, so am I
Here are my top tips to coping under lockdown
After a week of lying around the house, "getting used to" isolation, as I like to call it, and feeling a little bit sorry for myself, I decided it was finally time to start revising for those all important final exams. Except, there was one big problem, I had absolutely no motivation to do much work. I would wake up and just not know where to start, it felt overwhelming that there was so much work to do.
I wanna take a moment to say that it is totally okay to not feel completely normal right now. Everyone's lives have been momentarily changed by this, and no one is expected to function at their usual levels. The situation isn't ideal, so now it's about making the most.
I feel like it is starting to hit people that it's time to start revising and I'm going to be honest, the hardest bit is starting. I won't lie, it took me a couple of false starts before I was actually able to start for good. Now that I have started here are some of my top tips* to making the most of the current situation and getting through this revision period.
Getting some revision done: Productivity
My timetable

Make a timetable – You're probably going to say "yeah, yeah we know", and I get that, this is one of the most common tips about. But I'm going to share specifically how to make your timetable efficient and manageable

Don't be too over ambitious. Set work that you think will be possible to complete
Give yourself a day lee way sometimes. Have a day which you can use to catch up on any things you've not been to complete over the past few days.
Mark in your exams, just to clearly see where the end goal is.
Plan what type of revision you're doing, whether it's learning material, problem sheets or past papers.
Cross the days off. This is just so satisfying and shows you that you are making progress.

Have an accountability buddy – Have a friend who you text in the morning, just saying what you hope to achieve by the end of the day. Check back in at the end of the day (or at regular intervals) and see if you've managed to achieve this. This is a fun way to add a little bit of pressure to hitting your revision goals
Have separate "work and play" areas – This is key to making sure your brain knows when it's time to focus and when it's time to chill. For me my desk is my work space, the kitchen and dining table are one of my chill places where I cook and eat, and of course my bed is my most used chill space for, well, sleeping and Netflix…
Staying sane and positive: Wellbeing
Don't oversleep everyday – Now that we're all at home all day, it's very tempting to sleep in everyday. Whilst this feels pretty good to begin with, eventually oversleeping can leave you feeling more tired during the day. Of course do have those wonderful lie ins from time to time, definitely very enjoyable.

Heading out for walks

Get some exercise – With the current situation I know it is much harder to get your usual amounts of exercise. Whether you're choosing to do some home exercise or are still going out for a walk or run, make sure you keep it up. Getting exercise is an important part of keeping your body and mind healthy, and is a great break from work.

Fresh air – Even if you don't want to go outside, just open a window for a little while or sit on your balcony or in your garden. It just feels so good after being cooped up for a long time.

Cooking time

Talk to your friends – See below
Have routine – Try to keep to some some sort of routine. Wake up at the same time, make sure you have some breakfast. Take breaks from studying. Don't burn yourself out now, this is going to be a marathon not a sprint.
Eating well – Despite some food shortages there is still plenty of food available in the shops. Remember to eat plenty of vegetables, if you're struggling to buy enough veg to last you through a week or before you're able to go to the shops again, then try to cook some vegetables as soon as you've bought them and put them in the freezer ready to eat later in the week.
Social Interaction ideas: Fun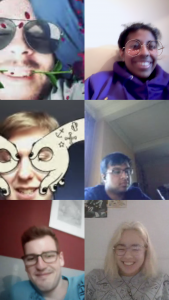 It's fair to say one of the biggest changes that isolation has caused is the fact we can't see our friends in person. Many have had to say goodbye to friends who've had to move home 3 months early. Some are also now living alone as flatmates head home. All of this can leave us feeling socially isolated and that's not good. Why not try some of these out
Video/Audio calls – The easiest way to keep in touch with friends and family despite the distance. Whatever method you like: Messenger, Zoom, Teams, Discord or one of the many more options. Maintaining relationships right now is so important to staying positive.
Online games – There are plenty of online games available to stay connected with your friends in a fun way. From online "Pictionary" (skribbl.io or gartic.io) to cards against humanity. Another popular game I was recently introduced to is Stardew Valley (would highly recommend) What could be more fun than building a farm with your friends!

MathSoc's online socials

Get involved with your societies – Loads of societies are doing stuff online, from bingo to online socials. MathSoc, the society I run, has recently done a bunch of online socials such as skribbl.io, we even have a movie night coming up. We've even launched a campaign called #MathSocAtHome, which is all about keeping our members connected at a time like this. We have had some competitions such as a video call screenshot competition and we're asking people to send in their best memories from the year which we share as a way of keeping people positive.


Netflix Party – clue's in the name, but try Netflix-ing with your friends, just as if they were with you!
Any other worries
*Disclaimer: I may or may not be following all of my top tips, but I aspire to have followed them all by the end of this week
I hope that some of these tips help you with your revision and help boost your wellbeing. I know that people will be worried about exams and things right now, my biggest piece of advice here would be to speak to your department and reps. They will likely have answers to your questions and be able to support you best. Feel free to drop me a comment or message as well.
All in all, all that's left to say is: Try your best to stay positive and productive, you can't do anymore than that.
All the best,
Aishy