If you were to walk through the iconic Queen's Lawn of Imperial College London while appreciating the magnificent structure of the Queen's Tower, you might have also walked past the Mechanical Engineering Student Training Workshop in Skempton Building, where you would have most probably seen a bunch of students with their red boiler suits and safety goggles. The Student Training Workshop is one of the most prominent features that makes Mechanical Engineering stand out in Imperial College compared to other universities. It is also the class that students are always most excited about seeing in their timetables, always craving for the next session.
Before coming to Imperial, I was expecting myself to be stuck in classes while doing my best to absorb theoretical content. Even though there were practical elements during my A-Levels and O-Levels, the majority of my studies were conducted in classrooms and seminars. The Student Training Workshop, otherwise known to us as the STW, was one of the best places for us to get our hands dirty and make mistakes. Students were trained on different manufacturing techniques and encouraged to give everything a go, while technicians were around to supervise and give pointers.
My journey in the STW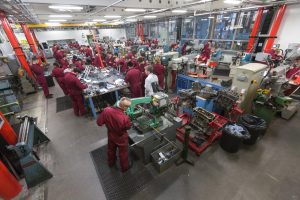 In my first year, we were scheduled to go into the STW bi-weekly. I remember the first few times stepping into the STW, being anxious about making mistakes as everything was so new to us. We were trained on how to use a milling machine to mill a metal sample provided. We were all assigned our own milling machines and had to operate the machines ourselves. At the end of the two hours session, I could not believe that I managed to create the final product myself. We even got to bring the samples home as a memory. By then, I was already counting down to the next time I was scheduled to step into the STW again.
Some other interesting techniques that we have learned in the STW include metal turning, metal drilling, wood carving and even taking apart a car engine. Before heading back home for the summer holidays after our first year, we could even make our own designs and have them carved out into a pendant using CNC laser cutting in the STW! Holding the creation made me feel so proud as a mechanical engineering student, as there's no better feeling than seeing something you designed come to life.
After conducting the proper training, we were then free to operate the machines in the STW for our projects in upcoming years. In our second car, we got to design our own motor-driven car and manufacture the different components required in the STW. These practical aspects of the course are always so refreshing as it allows us to stand up and try something new, and also enhance our theoretical understanding of what we have learned in class. All of the technicians were also people who radiate positivity, allowing us to trade dad jokes and our love for different music together.
With the pandemic around during the 20/21 academic year, new challenges arose when students were not able to step into the STW due to government and College restrictions. This presented new challenges and learning opportunities for us, allowing us to learn how to communicate clearly with the technicians in the STW, helping them understand our design through a range of engineering drawings and giving clear assembly instructions. After all, good communication skills are key to working on professional engineering projects too!
I'm so grateful to be able to be in a College where my creativity is allowed to flourish and am always encouraged to try new things. I can't wait to utilise the STW more this year and just have fun exploring around!