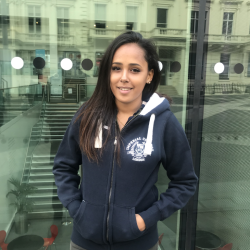 Congratulations to Layla Bolton Saghdaoui, a research nurse in vascular surgery at Imperial, who has been awarded a place on the NIHR Fellowship Programme. The programme will not only give her the skills she needs to complete a PhD, but will also take her around the world.
Layla, who works at Imperial College Healthcare NHS Trust, was excited to find out she'd been accepted onto the NIHR Pre-Doctoral Fellowship Programme. The fellowship is designed to support people who are looking to start or advance a career in health research methodology.
Layla will complete research placements and receive specialised training. Placement opportunities will take place at Imperial College School of Public Health, Manchester University and Harvard University.
Layla said: "I am very proud to have been successful in my fellowship application, as it proves that nurses can do it."
Layla is looking forward to learning more about the use of epidemiology (the study of how often diseases occur in different groups of people and why) to mine for data in regards to venous leg ulcer care.
She will also work with a leading nurse in research and gain experience in the management and leadership of undergraduate nursing students. At Harvard, Layla will gain experience of research practices that take place in a fee-paying health care system.
Layla's first research experience was in vascular. Thanks to the support she received as a nurse researcher she felt encouraged to progress in this area. The fellowship application process was tough but with the support of her supervisors, Layla developed the skills needed for successful grant writing.
As well as being accepted onto the NIHR Fellowship Programme, Layla also successfully applied for the Imperial Charity's Pre-Doctoral Research Fellowship. This will be used to gather data looking at the referral pathways of venous leg ulceration.
Layla added: "This is the start of my clinical academic career and will hopefully enable me to complete a PhD in the future".
Layla will begin the NIHR Fellowship programme in September 2019.
This content was taken from the NIHR news story.