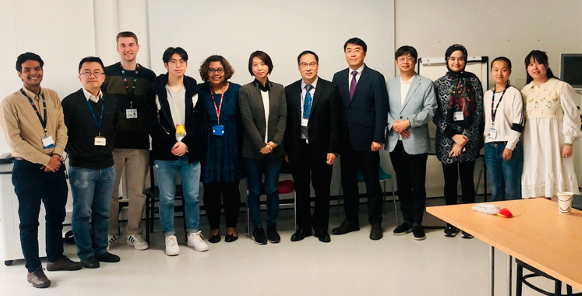 APMIC welcomed collaborators from the Korean Institute of Oriental Medicine to discuss how sleep patterns are associated with cognitive function.
On April 25th, 2023, the Division of Anaesthetics, Pain Medicine and Intensive Care was honoured to welcome collaborative partners from the Korean Institute of Oriental Medicine, who are collaborating with Professor Daqing Ma's group on a research project investigating the relationship between sleep patterns and cognitive function. The event was organised by Anna Aston and Raha West and included a thought-provoking presentation by Raha and Ryan Wong.
The project focuses on investigating the link between sleep duration, quality, and pattern with global cognitive function using the valuable dataset from the UK Biobank. At the same time, our Korean collaborator will examine data from Korea.
To further explore this research area, the team is also considering the contribution of biomarkers such as cholesterol levels, which have been linked to sleep quality. Additionally, they are adding medical conditions and other factors to help identify potential confounding variables that may be impacting the association between sleep and cognitive function. For example, chronic diseases such as hypertension, diabetes, and depression may affect both sleep quality and cognitive function. This information can help us understand the complex relationship between sleep and cognitive function and contribute to the development of interventions to prevent cognitive decline.
The event was a wonderful opportunity for stimulating discussions and the direct sharing of knowledge between the teams. Collaboration and knowledge-sharing are fundamental to this research, and this visit emphasised the importance of international partnerships in advancing research in the field.
Imperial's team look forward to continuing this exciting collaboration with the Korean Institute of Oriental Medicine and other partners in the future.