International Women in Engineering Day 2021: Kate Highnam
Wednesday 23rd June 2021 is the 8th global annual celebration of International Women in Engineering Day, an international campaign of visibility on social media, that aims to shine a light on our diverse engineering role models, and encourage more people to consider engineering as a profession for all. 
This year, women students and staff from EEE have been sharing their journey into engineering and their proudest achievements, along with some words of advice to girls and young women who are thinking about a career in STEM.
---
Kate Highnam is a PhD student in our Intelligent Systems and Networks group, researching cyber security and machine learning. She is also a PhD Representative, helping to run community-building events and discuss issues in the EEE postgraduate student body.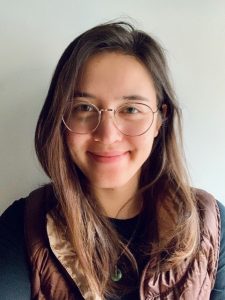 How did you become an Electrical / Electronics Engineer?
"While I am in the Electrical and Electrics Engineering department, my research is in cyber security and machine learning. My topic area is not strictly within EEE, but I hope to apply some EEE theory into my work, such as signal processing and control theory."
What's your proudest achievement as an engineer?
"Straddling two fields can be overwhelming, especially when pursuing expertise in both. My recently submitted work on a cyber security dataset tailored (and labelled) for benchmarking out-of-distribution and anomaly detection models is my proudest achievement to date as an engineer. This work marked the first major step towards my envisioned thesis work, conveying to me that what I want to do is possible."
What's your proudest personal achievement? 
"Before my PhD, I worked in the industry for three years in a variety of roles. Working with colleagues who had higher level degrees (Masters or PhD) highlighted the impact a degree can have in terms of opportunities in projects and how they solved problems. While I am grateful to the managers who allowed me to explore various topics, I also missed research and the academic environment I had during my final year of my undergraduate. It was hard to step away from the fantastic people I worked with and the relatively large paycheck, but I am proud to take this time to focus on what I want to know and how I can impact the field directly."
What piece of advice would you give to a girl who is thinking about studying EEE?
"If the initial topics interest you, then go for it! I believe that a major does not entirely determine the rest of your career. Fields like EEE teach you how to solve problems that seem intimidating, interact with a variety of applications (medicine, chemistry, cyber security, earth sciences, music, etc.), and convey the foundations of modern systems for everyday tasks (e.g. does this voltage charger match this device? What is 5G?). These skills will be useful wherever you go. Besides, the awe on a strangers face when they ask what you do is thoroughly entertaining!"
What activities do you take part in outside of engineering – at Imperial and beyond?
"When I get stumped with a problem and become frustrated trying to solve it, I need "little wins" to stay motivated. For this I turn to other activities while giving back to the community. As the PhD Representative for my research group of almost 100 people, I discuss department-wide issues that affect our postgraduate students and run events to build our EEE postgraduate community. I am also affiliated with the Alan Turing Institute to present my research and collaborate with (and learn from) other data scientists around the UK. To assist in the vaccination effort, I volunteer with St. John's Ambulance, a first aid charity in the UK, as a Vaccination Carer. For fun, I run through the various parks in London, indulge in international cuisine, and play hours of Dungeons and Dragons with my friends."