By Ella Greenhalgh – Education Support Administrator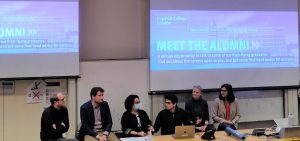 On Monday 13th February the EEE department welcomed back ten of our high-flying graduates to the lecture theatre 408 for our Meet the Alumni event. The event was a unique opportunity for students to meet their alumni, find out about the career paths open to them, and to get some first-hand advice for success.
Success stories
There were three panel discussions centred around energy, automotives, and software. The panels were led by student reps Pranav Madhusudhana and Simon Staal, who questioned the alumni on their career journeys thus far, the struggles they face within their industries, and how Imperial prepared them for their roles. Our graduates have gone on to do amazing things, as was exemplified by those that returned for the event.
Christopher Baker-Brian, the co-founder of BBoxx, Olivier van Goethem, data analyst at Google, Sophia Ahmed-Ashford, electronics development engineer for Mercedes F1, and Ashley Grealish, Head Of Engineering at Ev.Energy, were amongst those that spoke to our students. EEE's Industrial Liaison Director, Esther Perea Borobio, said it was "wonderful to host our alumni and see what they have been up to. There's such a variety of careers and adventures, it gives current students an insight to all the opportunities awaiting them."
Learning for life

When asked for one piece of advice to offer our students, certain themes reappeared: find something that interests you and go all in; focus on what you are going to learn rather than what pays well; never stop learning; take risks. Sophia from Mercedes said that at Imperial, "you learn how to learn", be that though the development of problem-solving skills in your Power Electronics seminar, social skills in your society's social events, or public speaking skills in your final year project presentation. Imperial gave our alumni the basis for excellent career development both technically and interpersonally. Knowing how heavy the workload can be, our alumni stressed the importance of rest and relaxation. They reminded our students to enjoy their time here and to take frequent breaks. It is in these breaks that wonderful memories are made, and lifelong friendships consolidated.
Pranav Madhusudhana, panel host and event organiser, said that "the event was a great way for students to meet people who are 10 years ahead of them in their careers, and ask a variety of questions. The panels helped give understanding into some of the intricacies of the energy, automotive and software industries. The alumni also gave advice on the ways to get the most of our degrees and going into industry and research, which was very insightful."
---
Our thanks to everyone who helped organise this successful event, and especially to our alumni for giving up your time to share your insight and experience with our current students — it was great to see you again!
Richard Pollock, Senior Motor and Power Electronics Engineer at Technelec
Sophia Ahmed-Ashford, Electronics Development Engineering at Mercedes F1
Olivier van Goethem, Customer Engineer at Google
Chris Baker-Brian CTO and co-founder of BBOXX
Ashley Grealish, Head Of Engineering at ev.energy uk
Charlotte Levin – Consultant at ECS digital
Pascal Loose – Senior Product Manager at LAIIER
Eirill Mehammer – Research Scientist at SINTEF energy research
Alina Walch – Data Scientist at Urbio
Simone Bertaiola – Management Consultant at KPMG