Our PhD student representatives work really hard supporting the EEE PhD community and building connections — with regular games nights, a winter party, seminars, and their brilliant Fireside Chat 'mEEEt-ups' series.  
Al-Amin Bugaje tells us more…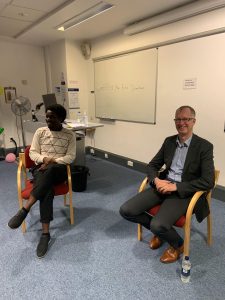 The EEE fireside chats are informal conversations between EEE PhD students and academic staff across the department, facilitated through a moderator that teases out the life story of the staff. The fireside chats have been popular and have served as a great way for the students to get to know members of staff on a more human level. The staff members have been excellent in sharing their wealth of knowledge and perspectives, especially regarding their journeys as researchers and in academia. The audience has received a fair share of inspiring stories from the head of the department, Eric Yeatman, and other remarkable journeys through the lens of Alessandro Astolfi, Goran Strbac, Ayush Bhandari, Pier Luigi Dragotti, Christos Papavassiliou, Nick Jennings, amongst others.
If any EEE staff are interested in taking part in the Fireside Chat 'mEEEt ups' — please get in touch via email al-amin.bugaje18@imperial.ac.uk.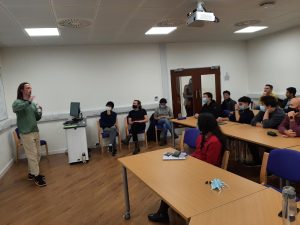 We have recently restarted in-person seminars after the Covid lockdown, and the first edition hosted two brilliant talks. One talk was from Kate Highnam of the Intelligent Systems and Networks research group, working in the intersection of    machine learning and cyber security. Kate's talk focused on the BETH cybersecurity dataset for anomaly detection and out-of-distribution analysis from her latest paper. The second talk was from Cormac O'Malley of the Control and Power research group, working on low-carbon power systems operation, and focused on a topic from his latest research paper on scheduling frequency services in a low-carbon system.