Wednesday 23rd June is the 8th global annual celebration of International Women in Engineering Day, an international campaign of visibility on social media, that aims to shine a light on our diverse engineering role models, and encourage more people to consider engineering as a profession for all. 
This year, women students and staff from EEE have been sharing their journey into engineering and their proudest achievements, along with some words of advice to girls and young women who are thinking about a career in STEM.
---
Christy Chan is an undergraduate student on our Electronics and Information Engineering (EIE) degree course, which has been described by our students as the subject to take if you want to become the next "Iron Man" — with the skills to build the hardware and to program it. She is President of the Women in Computing Society, and is very active in international sport.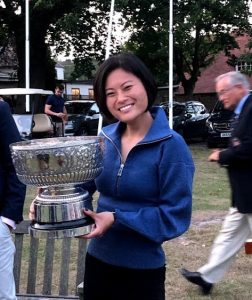 How did you become an Electrical / Electronic Engineer?
"I decided to do EIE when I realised that I could light up an LED using the Arduino at school. I found it mesmerizing! The ability to create real world solutions using code is what got me hooked, and the rest is history!"
What is your proudest personal achievement?
"My proudest personal achievement is when I, alongside my degree and despite covid, qualified to represent Great Britain in target rifle shooting – as I hadn't trained for 6 months and really didn't think I could make it!"
What piece of advice would you give to a girl who is thinking about studying EEE?
"Learn to make your voice heard, and be sure to focus on your personal brand! Make sure you know who you are and carry that through your degree, you'll make friendships and form working relationships with others much more easily!"
What activities do you take part in outside of engineering – at Imperial and beyond?
"Outside of engineering, I take part in a wide range of activities. At Imperial, I am President of Women in Computing society, and incoming president of the Barbell Club. I aim to promote women in a lot of what I do, and to make student life at Imperial a little better with my contributions! Outside of Imperial, I compete in target rifle shooting and powerlifting, having being selected to represent Great Britain in both!"