If you follow us on Instagram, you might have seen the stories from three of our members who shared their experience of the Conference for Undergraduate Women and Non-Binary Physicists, celebrated this past April in Glasgow. Here's what they had to say!
Bilgesu: My name is Bilgesu and I am a third year physics student at Imperial College London. This year I attended the Conference for Undergraduate Women in Physics (CUWiP) in Glasgow. This is an annual event and it has allowed me to meet some amazing women who are at various stages of their physics career.
The conference included workshops, panels and talks on various topics including academia, careers and industry. I gained a lot of insight into what physics graduates to after their degree and what motivates different people in the field. The careers fair allowed me to learn about different research opportunities outside of academia.
I also had the opportunity to present my poster on the research I completed last summer on Dropout Selection with Lyman Break Galaxies. Getting to discuss my work with others and receiving feedback on my poster was a great experience. I also got to learn about research other attendees had been working on through summer research and their Master's projects.
The conference hosted many fantastic speakers. Some of my favourites were Prof. Gail McConnell, Dr. Jess Wade, Dr. Clara Nellist and Dr. Yolanda Ohene's talks. I also had the honour of meeting Professor Dame Jocelyn Bell Burnell who is a true hero who has spent years working to make physics more inclusive.
Katie: In the days leading up to CUWiP 2022, I can safely say that my enthusiasm for physics was at a fairly low ebb – revising for final year exams does not necessarily make you enjoy your subject. Attending the conference reminded me why I want to study physics. It was such an inspiring and empowering experience to hear from other women and non-binary physicists working in so many exciting fields, both in industry and academia. Some highlights for me were the insightful panel discussions, Jess Wade's amazing talk about her research, outreach and Wikipedia editing, and meeting Jocelyn Bell Burnell! Another highlight was the poster session, during which I had the opportunity to present my MSci research project.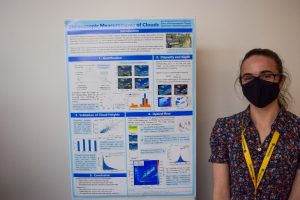 The conference was also so much fun. Being unleashed after-hours to indulge your inner child on all of the interactive exhibits in Glasgow Science Centre is the perfect way to bond with your fellow delegates (not to mention the ceilidh!), and I hope that I've made friendships that will last well beyond the end of the conference. Whilst moments such as the discussions about the prevalence of imposter syndrome and the 'broken pipeline' were sobering and a reminder that there is still a lot we can do to improve diversity in physics, I found CUWiP such a positive and inspirational experience and exactly what we need to see more of. I cannot recommend it enough.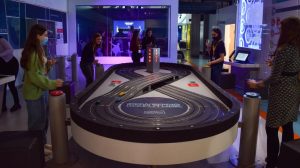 Molly: CUWiP 2022 was an amazing opportunity to meet other female and non-binary physics students and get inspired about physics. The schedule was packed full of exciting talks and my highlight would be the evening activities. On the Friday night we visited the Glasgow Science Centre where we had a private show in the planetarium and on Saturday I attended my first Ceilidh! CUWiP really gave me a sense of community as a physicist and I met so many wonderful people who I will definitely be seeing again in the future.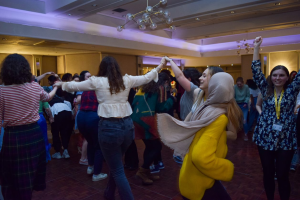 We encourage all those eligible to apply for CUWiP 2023 at the University of Liverpool and 2024 at the University of Limerick! More information at the Institute of Physics site.