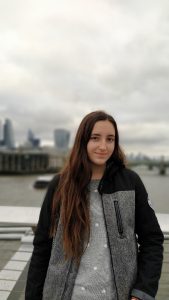 This week for #WomenonWednesdays we spoke to fourth-year undergraduate and Imperial Physics Review co-founder Adriana Bercebal!
Describe your path into physics, what kickstarted it?
When I was small, my dad used to tell me bedtime stories. Every night I would ask "What have you discovered today?", and he would explain the science news he had read that day. This really made me enjoy astrophysics and particle physics. Since then I have always been eager to learn more and more.
What are your interests within physics?
My favourite areas are space/astrophysics, plasma and particle. Plasma because of its use in nuclear fusion development, and space, astrophysics and particle because of all the physics yet to be discovered.
Why did you found the Imperial Physics Review? How can students contribute?
Imperial Physics Review was founded as a platform to give other students the opportunity to have a place to write about their favourite topics in physics. A place to write concise and creative pieces and learn further about physics. Students can become writers, both casually and periodically, but they can also help to run the magazine by for example being editors or running the social media channels. They can send us an email at imperial.physics.review@gmail.com
During your journey, what has your experience been being a woman in physics?
I have really enjoyed it so far. I have felt like one more all the way through. Although it is true there is a big difference in the gender ratio, I have always felt supported and motivated to learn further. I have had the chance to try different areas through projects and internships, which has been really helpful and entertaining!
What do you like to do outside of physics?
I play golf competitively on a weekly basis. I have been playing since I was 4. It really helps me relax and forget about everything for a few hours. I also do archery and bouldering, basically a lot of sport!